You are here:
Help celebrate the reopening of Skipton Town Hall by making bunting with a professional textile artist
Help celebrate the reopening of Skipton Town Hall by making bunting with a professional textile artist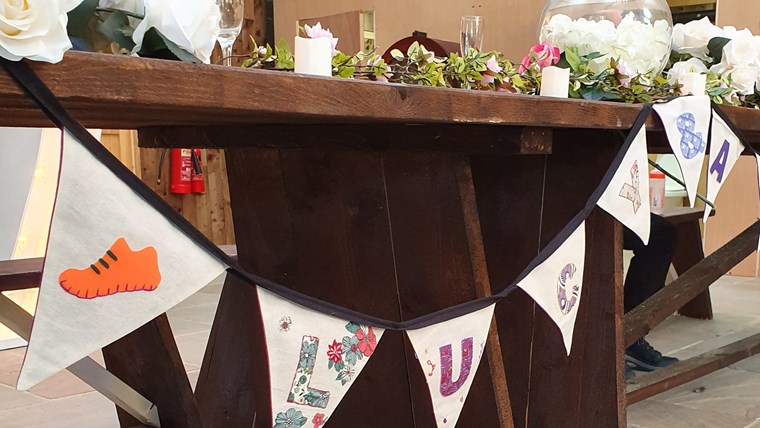 Craven residents are being invited to help celebrate the reopening of Skipton Town Hall by making bunting for the first exhibition.
When Skipton Town Hall opens in spring 2021, the first exhibition in the new Gallery will be "Celebrate!"
This will mark the reopening of the building and will also be a celebration by, for and with the people of Craven.
Residents are invited to take part in a free online workshop with professional textile artist Hayley Mills-Style, where they can make a piece of bunting.
Hayley will help participants to design and create their own piece of bunting, and will then join them all together to make a long strand for display.
Danielle Daglan, Craven District Council's Cultural Services Manager, said: "We're all looking forward to the reopening of Skipton Town Hall - any celebration needs bunting and we are inviting Craven's residents to help make it.
"Hayley Mills-Style creates textile drawings and objects that tell stories and we are delighted she will be working with us on this project.
"All the materials and instructions will be provided to make a piece of bunting free of charge, and the online workshop is free too. You don't need to have any prior sewing experience.
"Anyone who has made a piece of bunting and sent it back to us to be included in the exhibition will receive an invitation to attend the exhibition on its opening night."
The online workshop will take place on Thursday December 3 at 6.30pm and there are limited places. Anyone interested in taking part is asked to register an interest before November 19, by emailing the Community Heritage Curator at gbailey@cravendc.gov.uk or leaving a message at 01756 706408.
'Stories and Treasures of Street and Dale' is a National Lottery Heritage Funded Project to redevelop Craven Museum. During the three-year project, events and activities created will excite and inspire, and the redevelopment will increase accessibility of the Museum and the collection, as well as create new and innovative displays to tell the stories and showcase the treasures of the Craven Dales.
For more information, follow Skipton Town Hall on Facebook or Twitter (@SkiptonTownHall), go to www.storiesandtreasures.wordpress.com and www.cravendc.gov.uk/skipton-town-hall/craven-museum or email museum@cravendc.gov.uk