Settle Civic Event tackles issues faced by Dales families & communities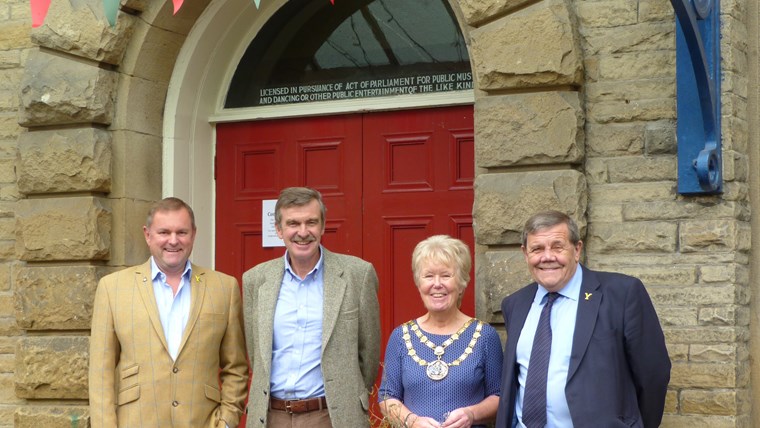 The Chairman of Craven District Council welcomed dignitaries, residents and members of local organisations to a special civic event at Settle Victoria Hall. 
Councillor Wendy Hull hosted the event and keynote speaker was Sir Gary Verity, Chief Executive of Welcome to Yorkshire and President of Friends of the Dales.
Councillor Hull said: "Over the past year or so there seems to be an increasing recognition of the challenges facing the Yorkshire and the possible threat to our wonderful way of life in this beautiful scenery.
"Living as I do in Settle, and being a ward member in Settle I really wanted to use my Civic Event to focus on these challenges.
"My key aim for the day was a simple one; we need to accept that there is no 'they' out there who must do something about the challenges facing our precious Yorkshire Dales. We are all 'they' - and only by coming together and working together can we hope to understand the challenges and find solutions.
"This was a fantastic event and a real opportunity to hear from a range of businesses, other key local organisations and local residents about their main concerns, their priorities for action and how best we might work together to devise and implement solutions."
Sir Gary spoke to the audience on issues including tourism and the survival of retail.
He said: "If this is a great place to come and visit, it will be a great place to live. We need vibrant services and facilities. A village without a pub is a pretty plain sort of place. It's a less attractive place for people to come and live and it doesn't really work from a visitor experience point of view.
"Whatever it is we're going to do today it has got to be relevant. The world moves on and changes, it always has done. We've got to be fleet of foot and we've got to be better than we ever were in the past.
"Boring retail is dead. If you do boring retail the game is up. If you do inspirational retail, you've got a great chance. We are all in the inspiration business. All of us."
The event was planned with the Friends of the Dales, Councillor Hull's nominated charity for the year.
Mark Corner, Chairman of Friends of the Dales, said: "We are privileged to be able to work, live in, or visit the special place that is the Yorkshire Dales. We are blessed with amazing and distinctive landscape, stunning flora and fauna, and a fascinating cultural heritage. Surveys tell us we are amongst the happiest people in the country. We have better than average health, lower than average crime, relatively high levels of employment, and underused infrastructure capacity, such as school places and availability of GPs. And people love visiting us – we are the second most popular National Park in England with over three million visitors a year.
However, he said, there were a number of issues facing Dales communities.
"Our falling and ageing population is a major issue and unless addressed will result in a downward spiral, ultimately threatening the survival of many of our communities," he said. "The exodus of young people and the lack of young families moving to the Dales threatens the viability of our schools, shops, and other services."
The event also included a walkabout when attendees were invited to join Councillor Hull and Sir Gary on visits to four local businesses; Schofield Hauliers, Ribblesdale Motors, Dalesbred Furniture and Upholstery, and Three Peaks Cycles.
The groups then returned to Victoria Hall for refreshments and Yorkshire Tea, and heard from more speakers: Robert Bellfield, principal of Craven College, Kris Brewster, of Skipton Building Society, Councillor Carl Lis, Chairman of the Yorkshire Dales National Park Authority, Bryan Gray, Chairman of the Settle & Carlisle Railway Trust, David Smurthwaite, Strategic Manager at Craven District Council, Craven District Council leader Councillor Richard Foster and Councillor David Staveley.
Residents got the chance to put questions to Sir Gary and other speakers. Towards the end of the afternoon, small groups were forming to take forward different aspects of the issues identified. Craven District Council will prepare and publish a summary of the day along with more formal initiatives to take the various suggestions forward.