Dissolving Margins and Crafting Change exhibitions come to Skipton Town Hall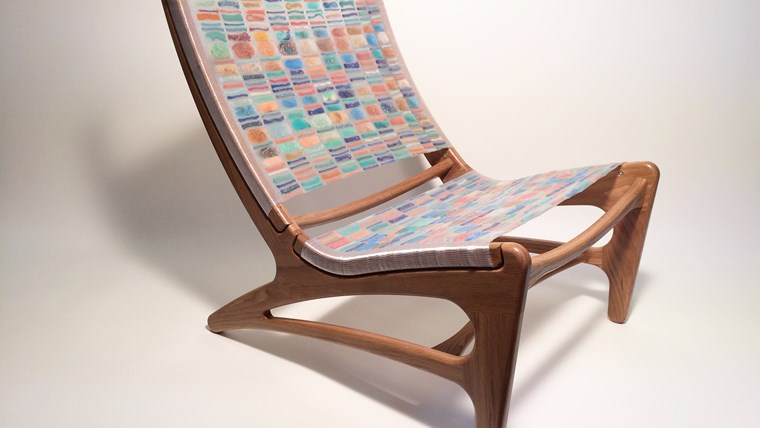 Two new exhibitions are opening at Skipton Town Hall on Saturday September 15, including a free drop-in creative workshop with artist Joe Hartley.
Diverse work from two groups of artists will be on display, including furniture, ceramics, jewellery and textile pieces.
'Crafting Change: New approaches to sustainable making', explores how artists can choose their materials and making methods in order to have less impact on the planet, while 'Dissolving Margins' is an inspiring display of textile work by Textilia 3.
'Crafting Change' is the latest instalment of Chrysalis Arts' Art Unpacked project. Making artwork usually means generating more 'stuff' and using resources and energy; the exhibition shows how artists can tackle this with thought and consideration. Others use their work as a way of asking questions about our relationship with objects and why we make and buy them. 
Joe Hartley, whose ceramic work features in Crafting Change, will be running a creative workshop at Skipton Town Hall on Saturday September 15, between 10.30am and 1pm. The artist will be showing participants the technique of extrusion, when working with clay.
Places are limited for the workshop, with a maximum of six people at any one time, but will be available throughout the period. As this is a drop-in session, there may be a slight wait.
Dissolving Margins, opens at Skipton Town Hall on the same day, and is an exhibition by Textilia 3, an established group of contemporary textile artists based in the North of England. They have exhibited widely in Yorkshire, Lancashire and Cumbria over the last 22 years, since the group was first formed.
The group has drawn inspiration from the theme of 'dissolving margins' in many different ways: from historical events such as the dissolution of monasteries and humanitarian issues of migration, to physical ideas of coastal erosion and the interaction between wild and manmade/managed landscapes.
Textilia 3 member Gemma Kelmanson said: "We are very pleased to be able to show our latest work, at the gallery in Skipton Town Hall. The theme of dissolving margins has inspired the artists to make exciting and challenging new textile art in such varied ways."
The artists in Textilia 3 use an exciting range of techniques including hand and machine stitch, felt, appliqué and mixed media and painting. Abstract, figurative and decorative pieces, wall art, 3D and wearable art are all included in the exhibition. Some of the artwork by Textilia 3 will be available to buy. There will also be a workshop by a Textilia 3 artist taking place at Skipton Town Hall, during the exhibition period, with more details to follow.
Dissolving Margins and Crafting Change: New approaches to sustainable making exhibitions will be on display in the Exhibition Gallery in Skipton Town Hall from Saturday 15th September until Thursday 18th October.  Opening hours for the Exhibition Gallery are 10am-4pm Monday-Saturday.