Craven District Council awarded funding for Skipton High Street improvements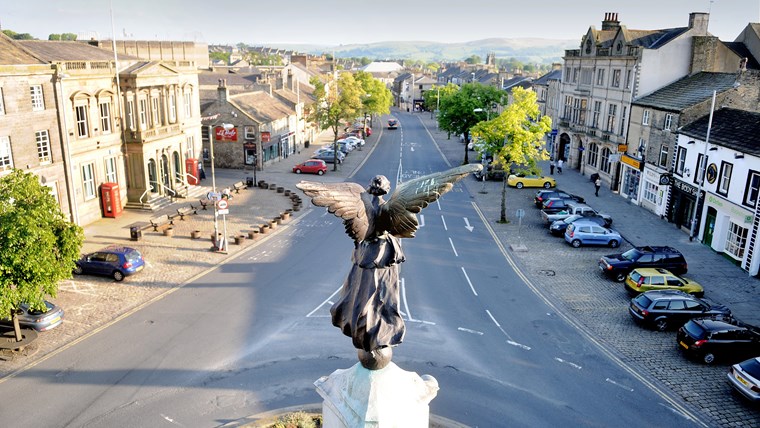 Culture Secretary Nicky Morgan has announced that Skipton High Street is one of 69 locations to benefit from a £95 million heritage boost for high streets in 69 towns across the country.
The investment builds on the successful Heritage Action Zones programme, run by Historic England, and will turn empty and underused buildings into creative spaces, offices, retail outlets and housing to support wider regeneration in the 69 successful areas by attracting future commercial investment.
Councillor Simon Myers, Craven District Council's lead member for Enterprising Craven, said: "We're absolutely delighted that we have been successful in bidding for this funding from Historic England.
"This funding will help us with a range of exciting plans to make Skipton town centre even more inviting and prosperous through a high quality historic environment.
"These include creating more public space for people to enjoy the town, and hold events and markets, and restoring and improving the ginnels running off the High Street.
"We also have plans to bring more of the historic buildings around the town centre back into use – we are already carrying out a complete refurbishment of Skipton Town Hall and we are drawing up proposals to create artists' studio space and affordable housing for young people."
Trevor Mitchell, Regional Director for Historic England, said: "High streets are right at the heart of our communities. It's fantastic news for the people and businesses of Skipton that they will receive this much needed boost to help them bring new life to their historic high street.
"Our high streets face many challenges, with some historic buildings underused and down at heel, but with a little investment and imagination they can be transformed into vibrant places that attract new businesses and other new uses. Historic high streets have a crucial role to play in delivering economic growth and attractive environments in which we can live, work and play. Historic England is looking forward to working with the local community in Skipton on this exciting historic high street project."
High Streets Minister Rt Hon Jake Berry MP said:"Towns across the Northern Powerhouse have a unique and rich history and cultural tapestry that local communities are rightly proud of.
"This initiative, boosted with £95 million in support from our Future High Streets Fund, will be vital for Northern towns in unlocking more of their huge potential.
"By restoring beautiful historic buildings for modern use, whole communities will benefit and high streets can flourish for years to come."
Culture Secretary Nicky Morgan said: "Our nation's heritage is one of our great calling cards to the world, attracting millions of visitors to beautiful historic buildings that sit at the heart of our communities.
"It is right that we ensure these buildings are preserved for future generations but it is important that we make them work for the modern world.
"This £95 million will help breathe new life into high streets all over England, benefiting businesses, supporting our much-loved buildings and helping to make our communities more attractive places to live, work and visit."