Anyone who wants to pursue a self-build or custom-build project in the Craven Local Plan area can register with the Council, either as an individual household or with a group. The registration process also gives people the opportunity to specify an ideal location or locations for their project and the ideal type of home they would like to build. Information provided by the register is the Council's main source of evidence on the level of demand for self and custom housebuilding in the area.
So what does the evidence tell us about the locations where people want to build?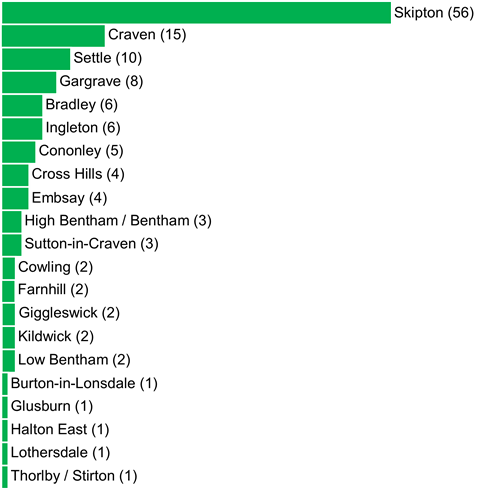 Skipton, anywhere in Craven and Settle are the three most mentioned places when individual households express a preference for particular locations, with 56, 15 and 10 mentions respectively. In addition to those in the chart, people mention other less specific locations, including rural, any rural/village location, North Craven, South Craven, W or SW, Aire valley, south of Skipton and even "a sense of community is essential", which are all mentioned once. Groups also prefer plots in Skipton (27), followed by Cononley (4), Thorlby/Stirton (2) and Embsay (2).
And what about the size of homes that people want to build?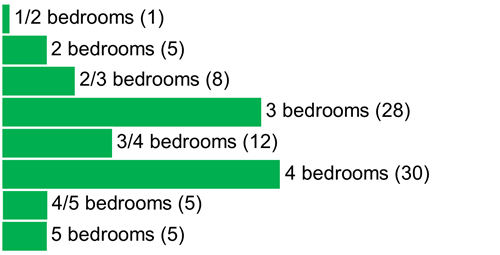 Most self or custom housebuilders would prefer a four-bedroom home and slightly fewer would prefer a three-bedroom home. For the most part, groups are not able to specify the various needs of each member, but one group with two members has expressed a preference for five-bedroom homes. Other groups, with a total of 29 members, have not expressed a preference.
If you'd like to learn more, please visit our dedicated self-build and custom housebuilding webpage, where you can also apply to join the register and read our Annual Reports.
---
This article is from the spatial planning team