Larry & George Lamb: Back on the Road
A chat show with a difference from the stars of Britain by Bike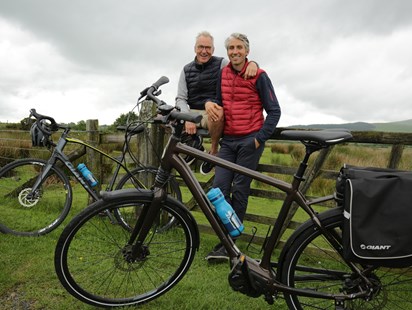 Saturday 17 November 2018 19:30 PM - Monday 17 September 2018
Adults £17.00 / Concessions £15.00
Larry & George Lamb: Back on the Road
Saturday 17th November  - 7:30pm.
Tickets - Adults £17.00
Concessions (over 60, Students & Under 18s) £15.00
A chat show with a difference from the stars of Britain by Bike. George is the host, and he'll be encouraging his old man to talk about his life on the telly, from Gavin and Stacey to EastEnders, with the highs (and lows) from his 40 year career. But, the spotlight will turn on George too: his life in showbiz, and being the son of someone whom millions of people (think they) know. Special local guests to be announced soon.
Start time 7.30pm
Raked seating will be in use, as well as flat stall seating.  The seats will be unreserved and allocated on a first come first served basis. 
Tickets available to buy online through the 'Book Tickets' link above.
If any members of your party have any hearing, sight or physical impairments pleaes indicate upon booking and the Box Office staff will make necessary arrangements.
Box office situated in the Tourist Information Centre 
Open 10am - 4pm, Monday to Saturday
Phone orders welcome - 01756 792809
Skipton Town Hall is committed to ensuring all customers can participate and enjoy our events; visitors who need someone to accompany them to access an event or performance can get a free carer ticket for their companion. Please call our Box Office team on 01756 792809 to request the ticket.
For all events and performances, groups purchasing 10 or more tickets will receive a 10% discount on their ticket prices. 
Newsletter
Sign up to our newsletter and get the latest town hall news straight to your inbox