A Deliciously Entertaining Show!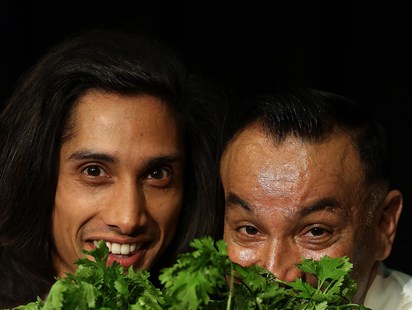 Tuesday 20 March 2018 6:30 PM
£14.00 / £11.00 under 18s - includes tasters and an Indian beer or Mango Lassi
Thank you to everyone who has bought tickets - we are now sold out!
Two actors play all the roles in the story of a busy night in the local curry house, centering on father and son Abdul and Khalid on a particularly busy night in their restaurant as they struggle to deal with all of the customers 'out front' and the staff in the kitchen, whilst also deciding on the future of the family business - will Khalid carry on, or is this the end?
The actors will be joined by Skipton's own Yesmein Bagh Ali from local business Amaali. Yas will be offering a spicy cookery demonstration during the performance with tastings offered to the audience!
Feed your mind and excite your taste buds at The Chef Show, the new play from Yorkshire playwright Nick Ahad, which is touring nationally in February and March following the successful original tour in 2017.  Part comedy play, part cookery demonstration, this production takes its audience behind the scenes on a busy Saturday night in the local curry house.
Suitable for ages 10 years+
Box office situated in the Tourist Information Centre 
Open 10am - 4pm, Monday to Saturday
Phone orders welcome - 01756 792809
Skipton Town Hall is committed to ensuring all customers can participate and enjoy our events; visitors who need someone to accompany them to access an event or performance can get a free carer ticket for their companion. Please call our Box Office team on 01756 792809 to request the ticket.
For all events and performances, groups purchasing 10 or more tickets will receive a 10% discount on their ticket prices. 
 In partnership with