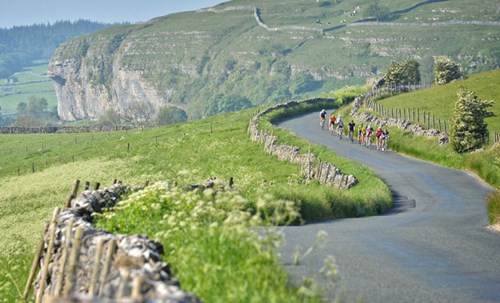 This event, organised by Craven District Council and Skipton Cycling Club, celebrates the very best cycling the Yorkshire Dales has to offer and follows much of the Tour de France 2014 Stage 1 route.
Starting from Skipton, Le Petit Depart offers four fantastic routes to cater for all abilities.
38 miles
The 38 mile route follows the 2014 Grand Depart route up and back down the magnificent Upper Wharfedale valley, stretching right up into the heart of the Yorkshire Dales. Riders then return via the stunning Bolton Abbey.
49 miles 
This route adds an extra 11 miles onto the 38miler by taking riders to Buckden and on to the foot of the Kidstones Climb.  You then loop back around by Hubberholme and returning to rejoin the 38miler at Kettlewell
80 miles
The sportive ride is 80 miles over three climbs and follows much of the Tour de France stage 1 taking you and along six dales. From the head of Wharfedale the route goes over Kidstones, the first official climb of the 2014 Tour de France. It continues along the Stage 1 route, returning to Skipton via the impressive Ribblehead viaduct, the quaint market town of Settle and the lovely Malhamdale.
100 miles
This ride follows the 80miler all the way to Cracoe and then cuts across to join the 38mile route down Wharfedale to Bolton Abbey.  It then crosses over to Addingham on stage 2 of the 2014 Tour de France route and takes you up one final climb up Cringles.  A quick descent follows back into Skipton.  Cut off at Cracoe at 3.30pm so we can all get to the post event Curry night!! 
This year Sue Ryder Manorlands Hospice is our designated charity.  They provide expert palliative care, advice and support for local people who are living with life-limiting conditions, as well as supporting their families. This specialist care and support are free to the users but Manorlands needs to raise £2.1 million per year, to keep this essential provision in our local area.  Please either chose the Charity contribution option when you enter or email Molly Ralphson for one of their excellent fundraising packs molly.ralphson@suerydercare.org
For more information and to enter go to www.lepetitdepart.co.uk