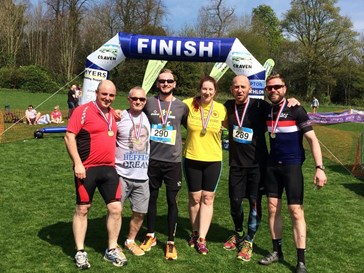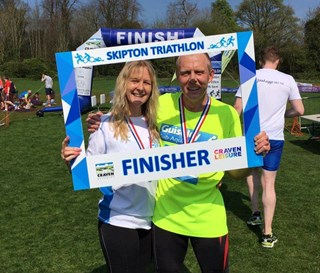 Skipton Triathlon will take place on Sunday April 19th, 2020.
Register Your Interest has now closed as Race Entries open, enter now to secure your place as entries selling fast:
---
Swim 400m - Bike 22km - Run 5km
The Swim - 400m in Craven Swimming Pool & Fitness Centre
The Bike - A single-lap 22km circuit of some of the stunning countryside around Skipton
The Run - A two-lap 5km run around the glorious Aireville Park
New to Triathlon? Then read the excellent beginners guide from Triathlon England:
Download Triathlon England's Beginners Guide to Triathlon
---
This year we welcome NEW race Associate Sponsors CP Media alongside Omnis services.
https://www.communitypartners.co.uk/
"We are delighted to be supporting the 2020 Skipton Triathlon in partnership with Craven District Council. We have worked for a long time with the Council managing their outdoor asset sponsorship scheme which enables local businesses to promote their brand. We are also committed to supporting the local community and encouraging active lifestyles via our sister company CP Active. The Skipton Triathlon is a major local sporting event and an excellent way of motivating people to get into triathlons and exercise. If you haven't done one before - give it a go!"
Richard Eccles, Chief Operating Officer, CP Media
http://www.omnis-services.co.uk/
---
This year Sue Ryder Manorlands Hospice is our designated charity.  They provide expert palliative care, advice and support for local people who are living with life-limiting conditions, as well as supporting their families. This specialist care and support are free to the users but Manorlands needs to raise £2.1 million per year, to keep this essential provision in our local area.  Please either:
Thank you for supporting this excellent local charity 
---
Craven District Council delivers this event with its volunteer partner Craven Energy Triathlon Club - the home of all things to do with Triathlon in Skipton and Craven area.  Find out more about the Club from their website 
---
Race Information
The Skipton Triathlon Race takes place at Craven Leisure and Aireville Park, Skipton (BD23 1UQ).
Car parking is at the Craven Auction Mart (BD23 1UD) just next door to the pool and park.
The race starts with the Swim and your start time is based upon the swim time you put on your entry for the 400meter swim.  Below is the expected start times based upon last years swim times and number of entrants. Swim times can be changed anytime upto close of entries. 
| | | | | | | | |
| --- | --- | --- | --- | --- | --- | --- | --- |
| 8 - 9am | 9-10am | 10-11am | 11-12noon | 12-1pm | 1-2pm  | 2-3pm | 3pm+ |
| 18-20mins | 15-17mins | 13-14mins | 11-12mins | 9-10mins | 8-9mins | 6-8mins | Sub 6mins |
The Google map below shows you the layout for the race day including all the key event areas.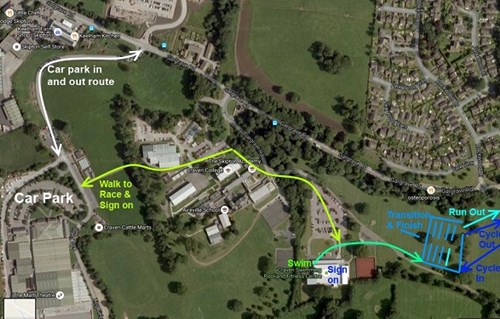 The Cycle route starts by the Gargrave Road War Memorial and heads out of town up this road.
It turns left along the A59 for 5km past Broughton Hall to the A56/A59 roundabout.
The route turns right to stay on the A59 and heads up to East and then West Marton, where you turn left onto the back road to Thornton in Craven.
You turn left twice in Thornton in Craven onto the A56 and the half way mark.
You ride down the A56 past the Tempest Pub and to the A59 roundabout where you turn right and retrace your route back along into Skipton.

Check out the full cycle route by on MapMyRide here and the full run route on MapMyRide here.
You'll dismount and return to Transition for the run, which takes you back out onto Gargrave Road by the War Memorial and along the pavement before turning back into Aireville Park. Here the run route takes you down through the park on the main path to almost the Leeds Liverpool canal and the drinks station. You turn around here and return up the park to the top before completing your first loop by running along the top wood path. One more lap to run before you dash across the grass to the finish line in the middle of the park. Here you can claim your well-earned medal, relax, pick up your time, get a massage, chat with other finishers and celebrate finishing.
Contact details and further information
Find out more about the sport of triathlon here: British Triathlon Federation
Follow us on Facebook and Twitter for up to the minute information about Skipton Triathlon!
Contact us at skiptontriathlon@cravendc.gov.uk with any queries.
The event entry and your data is managed in accordance with the attached Privacy Policy