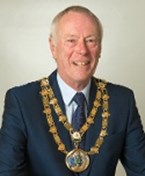 The Chairman of Craven District Council is the First Citizen of Craven and represents the Craven community at events throughout the District, in other parts of North Yorkshire and, occasionally, in the neighbouring areas of Lancashire and West Yorkshire.
The current Chairman is Councillor Stephen PLACE (Independent aligned to Conservative Group).
The Chairman's Good Cause
The Chairman normally nominates a charity as a 'Good Cause'.  The current Chairman's good cause is the RAF 264 Skipton Squadron (Air Cadets).
Inviting the Chairman to your event
If you would like to invite the Chairman to attend your event please use the online form, or e-mail Chairman@cravendc.gov.uk or contact the Chairman's Secretary on 01756 706274.
You may find it useful to review these Civic protocol notes [70kb].