A new council
In April 2023 there will be a new council for everyone bringing together all the services currently delivered by the county council, borough councils and district councils. 
Councils affected are Craven District Council, North Yorkshire County Council, Hambleton District Council, Harrogate Borough Council, Richmondshire District Council, Ryedale District Council, Selby District Council and Scarborough Borough Council. York City Council will continue to operate as it is.
The name of the new council will be decided in the Statutory Change Order due to be published in Spring 2022. Up until 2022 the council will be referred to as 'The new council for North Yorkshire'
Countywide but local - how the new council will operate at a local level
Duplication will be reduced, bringing together services and making savings. There will be:
A local area office in every district area with a dedicated face to face customer access point
A range of at least 30 additional local customer access points across North Yorkshire in key towns and villages providing access to council and partner services
A council of around 90 members
A number of Local Area Committees will provide challenge and oversight to the new council and support local priorities
Around 25 Community Networks to support the needs and aspirations of every market town supported by a Local Area Coordinator
New ways of working with and empowering town and parish councils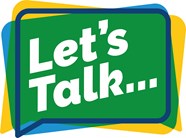 We want to know what really matters to you about your local area. Find out how to get involved in Let's Talk North Yorkshire.
On 1 April 2023, the new North Yorkshire Council will replace the eight councils currently delivering public services across the county. The new council will be the largest geographically in the country, but it's being built with local at the heart of everything it will do.
Between September and January we will be holding North Yorkshire's biggest ever countywide conversation, called Let's Talk, to find out what issues really matter to you.
Having one new council will save money by streamlining services and prevent duplication, which can then be used to support services so they are stronger and fit for the future, as well as fund local decision-making.
Let's Talk Local
Let's Talk Local is the first topic for discussion, with teams from all eight councils travelling across the county to get your views on how the new council can best support what is needed where you live. We will also be asking you what you think of our initial ideas around what areas the new community networks will cover.
Over four months we aim to have over a thousand conversations in person, talking to you where you visit, socialise and meet up with others. We will also be encouraging thousands of others to take part online. Later in the autumn this will be followed by a conversation about money and how the new council's budget will be spent.
Let's Talk Local launches on 19 September, so please take part and tell us what you think.
Council Tax and other charges
The new council will decide how to introduce a fairer structure for future Council Tax as the tax is currently set at different levels across the county.
Given the financial benefits of the new authority there could be the opportunity to use some of those savings to help cushion increases in council tax for those areas with relatively low rates.
Fees and charges across the county will be standardised – consultation will take place with local residents to understand impacts and mitigate where possible
Savings
Savings identified are primarily from improved procurement, contracts and better use of assets like buildings, systems such as IT, and economies of scale rather than staffing. Most savings will be achieved where there is most duplication e.g. back office systems and senior management.
An estimated initial £30 million saving will come just through reorganisation itself. Independent expert financial analysis of the proposal chosen for new council identified savings up to £252 million over five years, vital to protect front line services.
Transition Timetable
Now until February 2022
Informal stage
All councils working closely to plan the change
February to May 2022
Formal structures in place
Elections to new council
May 2022 to April 2023
New councillors and new constitution
Recruitment of new top tier management
How the transition is being managed
Staff from all authorities across North Yorkshire will be involved throughout the change. 
The Chief Executives are working together to build the necessary strong foundations upon which the change programme will be developed.
All councils have signed up to a set of shared principles to support a culture of collaboration and respect between the existing authorities and shape how we work together both through the transition and beyond.
What happens to local councillors?
In Craven, our district councillors will continue in their current capacity until April 2023 until the new authority comes into operation.
Elections for the new council will take place in May 2022 which will be run as they would normally for a county council election. The councillors will be elected for five years - that's one year longer than normal.
For the first year these councillors will represent the current county council. They will form a new executive and will also oversee the implementation of the new council to make sure everything is in place for 1 April, 2023. They will then continue on for another four years as councillors for the new authority when it begins in April 2023.
Devolution – the new council will be a step further towards a devolution deal for York and North Yorkshire
The new authority will work in close partnership with City of York Council to unlock a devolution deal for York and North Yorkshire.
Removing the two tier system of local government (county, districts/boroughs) was a condition of unlocking a devolution deal.
Devolution will see funding and greater decision making powers over local matters passed from central government to York and North Yorkshire as part of a mayoral-led combined authority.
£2.4bn of investment could potentially be unlocked over the next 30 years.
Devolution Vision
The vision is for North Yorkshire and York to become England's first carbon negative economy, where people with the skills and aspiration to reach their full potential earn higher wages and live healthy lives in thriving communities.