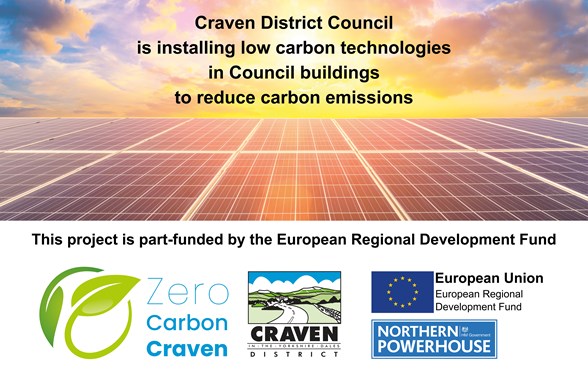 This project started in 2021 and will install a combination of carbon reduction and renewable energy technologies across the Craven District Council property portfolio.
This includes online energy monitoring, insulation, approximately 1800m2 solar panels, large ground source heat pumps, heat recovery and public displays of carbon emissions in our buildings.
We will also be partnering with Yorkshire Housing to reduce carbon emissions and fuel bills in a number of properties in the Greatwood and Horse Close Estate.
The project forms part of Craven District Council's commitment to zero carbon emissions by 2030 and will give significant reductions in carbon emissions in the seven public buildings in Skipton including Craven Leisure, Skipton Town Hall, Aireview House, Waltonwrays Crematorium, Belle Vue Square and the new Waste Management depot at Engine Shed Lane. 
Works timetable:
| Project element | Start date | Completion date |
| --- | --- | --- |
| Building Management system installed in Skipton Town Hall | June 2021 | July 2021 |
| Photovoltaic (PV) panels installed at all sites | July 2021 | April 2022 |
| Engine Shed Lane works |   | March 2022 |
| Installation of insulation on Crematorium roof | September 2021 | October 2021 |
| Installation of insulation at Skipton Town Hall  | September 2021 | October 2021 |
| Installation of energy monitoring public displays | January 2022 | April 2022 |
| Installation of heat pump systems and heat recovery at Craven Leisure | January 2022 | March 2022 |
| Installation of domestic insulation, PV panels and heat pumps in Yorkshire Housing properties |   | March 2022 |