Feel Good, Look Good.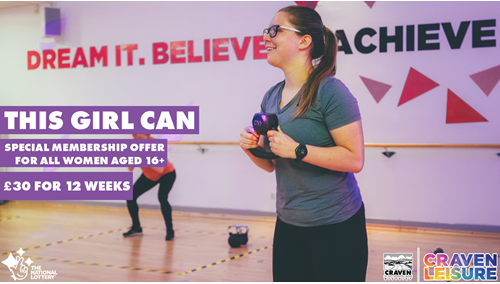 This project will allow women to join the Freedom membership for up to 12 weeks for just £30!
The Grant
National Lottery have awarded Craven Leisure with a grant of £6,450 for the Feelgood, Lookgood campaign through Sport England's This Girl Can Community Fund Award.
Once you have completed the 12 week scheme and attended at least 3 activities a week (average) then you will receive the option to join the Freedom membership for £30 per month for the first 12 months compared to the usual £36.50pm price.
Applicants must fit the following criteria to be able to join the scheme.
Inactive or low active with performing 1 or less physical activity per week over the last 6 months.

Residing in the Craven District Borough.

Female aged 16+
What does inactive mean?
If you've performed more than 1 physical activity per week over the last 6 months including walking, gym memberships at Craven Leisure or any other facility you wont be eligible for this scheme. Previous members at Craven Leisure in the last 6 months wont be eligible for this scheme (regardless of activity levels).
What does the scheme involve?
All participants will receive the following;
 Consultation with a fitness instructor before commencing exercise.
Free 12-week programme built for your goals and ambitions.
Fitness mentor to support you through the 12-week programme
Full Access to the pool
Full Access to all fitness classes
Full Access to the gym
How to Join
To join the program you only need to complete the short application form. 
Upon Joining
Upon joining you'll receive a free 12 week parking permit, a membership card and access to the online booking system and a free gym bag and free branded water bottle (this isn't permitted to be used on social media – branding rights). Throughout this period you'll have access to the pool, gym and fitness classes with the support of our fitness team who will be monitoring your attendances and progress. 
What if I cancel?
At week 10 you'll be given the option to join the discounted freedom membership before the 12 week membership expires. You will then have a one week grace period before you become ineligible to receive the discounted price. If you leave after the 12 week scheme and wish to re-join unfortunately you wont be eligible to join on the 12 week scheme again or receive your discounted membership rate.