This statement relates to:

The websites are designed to be used by as many people as possible. The text should be clear and simple to understand. You should be able to:
zoom in up to 300% without problems
navigate most of the websites using just a keyboard
navigate the mobile websites with Android and iOS accessibility tools

Accessibility of these websites
Parts of these websites are not fully accessible. For example:
many documents are in PDF format and are not accessible
some pages and document attachments are not clearly written
some tables do not have row headers
some pages have poor colour contrast
some heading elements are not consistent
some images do not have good alternative text
some buttons are not correctly identified

Feedback and contact information
If you need information in a different format such as audio recording, braille, BSL or large print, accessible PDF or plain text:
email: contactus@cravendc.gov.uk
call: 01756 700 600
visit: Craven District Council, Belle Vue Square, Broughton Road, Skipton BD23 1FJ
Tell us the web address (URL) of the content, your name and contact details and the format you need.
We will consider your request and get back to you within 7 - 10 working days.
Reporting accessibility problems with this website
We're always looking to improve the accessibility of this website. If you find any problems that are not listed on this page or you think we're not meeting the accessibility requirements, please contact us.
Enforcement procedure
The Equality and Human Rights Commission (EHRC) is responsible for enforcing the Public Sector Bodies (Websites and Mobile Applications) (No. 2) Accessibility Regulations 2018 (the 'accessibility regulations').
If you contact us with a complaint and you're not happy with our response contact the Equality Advisory and Support Service (EASS).
Technical information about these websites' accessibility
Craven District Council is committed to making its website accessible, in accordance with the Public Sector Bodies (Websites and Mobile Applications) (No. 2) Accessibility Regulations 2018.
This website is partially compliant with the Web Content Accessibility Guidelines version 2.1 AA standard due to the non-compliances listed below.
Non-accessible content
The content listed below is non-accessible for the following reasons:
Non-compliance with the accessibility regulations
Some PDFs and Word documents available to download from the main website are not accessible. These documents are meant to be printed and completed offline and sent to the Council as a paper copy. In these instances, the forms will not be made accessible as their primary function is not digital. On the web pages that these documents are hosted, a detailed and accessible description of the form's content is available. Over time, the Council plans to digitise all forms and remove any downloadable PDFs and Word documents, replacing them with fully accessible online alternatives.
Some images do not have a text alternative, so people using a screen reader cannot access the information. This fails WCAG 2.1 success criterion 1.1.1 (non-text content). When we publish new content, we'll make sure our use of images meets accessibility standards.
Some tables in content do not have table row headers when needed. This fails WCAG 2.1A 1.3.1 success criterion (Info and Relationships).  This is a limitation of the publishing tool.
Focused links and buttons sometimes do not have enough contrast. This fails WCAG 1.4.11 AA (Non-text Contrast).
Some website forms differ in their adherence to WCAG 2.1 AA standards. This is an issue we are in discussion with our suppliers about.
There are some cases of low contrast between foreground and background colours. This fails WCAG 2.1 success criterion 1.4.3 (Contrast (minimum)). 
We plan to fix these issues by 31 March 2023.
Some of our PDFs and Word documents are essential to providing our services. For example, we have PDFs with information on how users can access our services, and forms published as Word documents. We plan to either fix these or replace them with accessible HTML pages by 31 March 2023.
Content that's not within the scope of the accessibility regulations
PDFs and other documents
Many of our older PDFs and Word documents do not meet accessibility standards - for example, they may not be structured so they're accessible to a screen reader. This does not meet WCAG 2.1 success criterion 4.1.2 (name, role value).
Some of our PDFs and Word documents are essential to providing our services. For example, we have PDFs with information on how users can access our services, and forms published as Word documents. We plan to either fix these or replace them with accessible HTML pages by 31 March 2023
The accessibility regulations do not require us to fix PDFs or other documents published before 23 September 2018 if they're not essential to providing our services.
Live video
Our website contains links to hosted video content. These videos do not currently use closed captions, open captions or synchronised text streams. Although this fails WCAG 2.1 success criterion 1.2 (time-based media) we do not plan to add captions to the hosted content of this video content because pre-recorded video published before 23 September 2020 is exempt from meeting the accessibility regulations.
Live video streams do not have captions. This fails WCAG 2.1 success criterion 1.2.4 (captions - live).  We do not plan to add captions to live video streams because live video is exempt from meeting the accessibility regulations.
Archived content
Archived content is defined as the content of web sites and apps which are considered archival, meaning they are not needed for 'active administrative purposes' and are no longer updated or edited.
This includes:
Local plan evidence base
Expired council meeting agenda and minutes
How we tested this website
These websites were tested for compliance with the Web Content Accessibility Guidelines V2.1 level A, level AA and level AAA, and these tests have been carried out internally through Silktide accessibility software and manually. Accessibility issues raised have been added to this statement and are removed once resolved.
We tested:
www.cravendc.gov.uk
What we're doing to improve accessibility
We plan to improve the accessibility of our existing content alongside ensuring all new content will be published as accessible.
Craven District Council uses Silktide, a website monitoring software provider, to assist in the continuous improvement of the Council's websites.
This accessibility statement will be updated regularly to track progress of accessibility work and to ensure the information provided is accurate and up to date.
Third-party systems
We specify that any new third-party online systems we commission Web Content Accessibility Guidelines 2.1 AA compliant. However, third-party applications are partly or wholly out of our control and so may not conform to the same levels of accessibility as the rest of the website. Third-party applications include:
publicaccess.cravendc.gov.uk (planning application services)
selfservice.cravendc.gov.uk
myaccount.cravendc.gov.uk
entitledto.co.uk (some Council Tax services)
grantapproved.co.uk (Council Tax rebates)
victoriaforms.co.uk (For some Council Tax and Business Rates services)

We are working with our suppliers to bring these services up to the standard we expect. We will also be making an assessment when each supplier contract is up for renewal and building in accessibility requirements as part of our procurement process.
Preparation of this accessibility statement
This statement was prepared on 1 September 2018. It was last reviewed on 25 May 2022.
This website was last tested on 21 May 2022
. The test was carried out by Silktide.
A representative sample of 125 pages are tested on this website each month.
---
How to change this website's font and text size
It is possible to change both the font and text size of all our pages.
The quick way to change font size in Internet Explorer, Firefox and Safari is to use the zoom function:
To zoom in

 

Ctrl (cmd on a Mac) and +
To zoom out

 

Ctrl (cmd on a Mac) and -
To reset to the default

 

Ctrl (cmd on a Mac) and 0
Some browsers keep everything in proportion, increasing and decreasing page width and image size. Therefore if you zoom in you need to scroll the page sideways to read a complete line.
How to change font and text size for all web pages on Internet Explorer
To customise your view of web pages using Internet Explorer, first you must switch off default settings for fonts and colours.
1. First click on the Tools cog in the top right hand corner of the screen.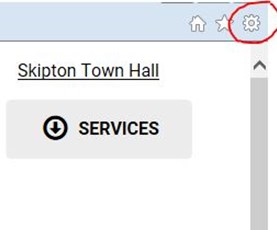 2. Then select "Internet Options" from the drop-down menu. This brings up the Internet Options box.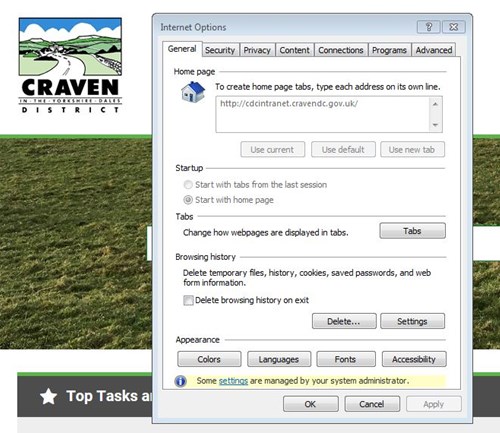 3. Click on the "Accessibility" button.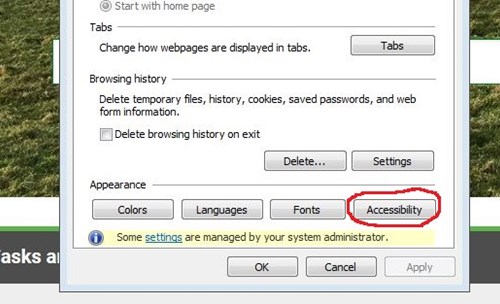 4. Now click the first three boxes (or as many as you want to customise) and click OK.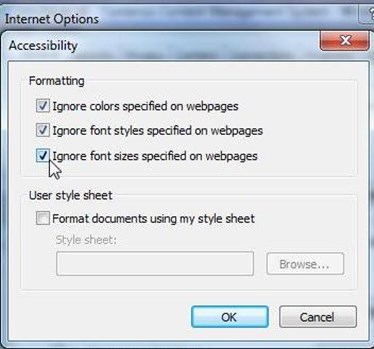 Now you can change the font, text size and colours
1. Click the Tools cog and then Internet Options.
2. On the General tab, click Fonts. The Fonts dialog box then opens.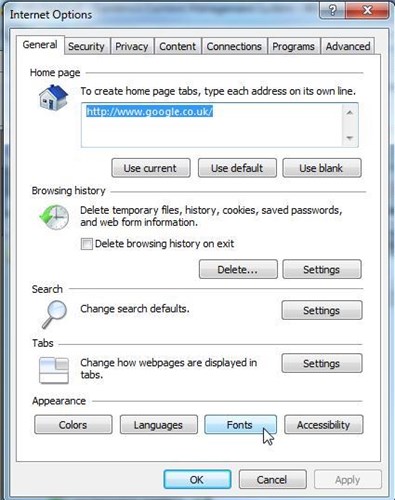 3. Choose the plain text font you prefer. A preview of the font change is shown near the bottom of the dialogue box. Click OK and the web page text will be changed to the font you have chosen. 
4. You can also now change the font size by clicking the "Tools" cog and adjusting the Zoom.
5. You can also change the colours used on web pages by clicking the "Tools" cog, selecting Internet Options, and then on the General tab click Colors.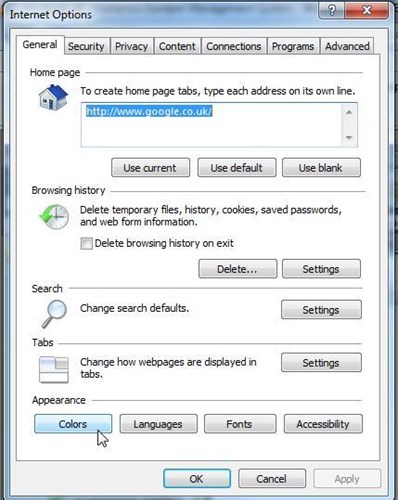 6. Click to untick the Use Windows colors box, then click each of the colour boxes in turn to select your preferred colour for the various options. Click OK to save.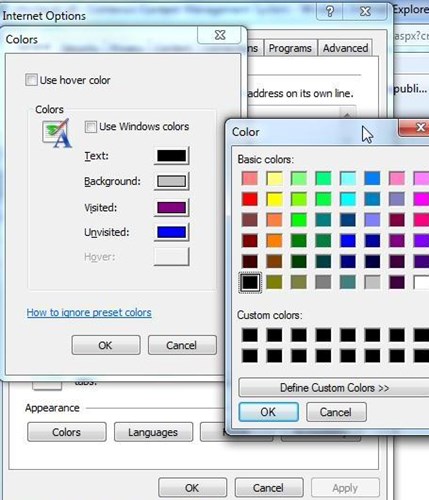 Other guidance
There is excellent help and advice on the My Web My Way website, which includes guidance on how to change font size etc. on different browsers such as Firefox, Chrome, Safari etc. 
Compliance
This website has been built to closely adhere to as many web standards as appropriate, reference has been made to the Disability Discrimination Act, PAS 78, W3C Web Accessibility Initiative,  E-GIF and Metadata standards such as the IPSV.
We aim to conform to Level AA of the World Wide Web Consortium (W3C) W3C Web Content Accessibility Guidelines 1.0
Accessibility has been measured and reported on as part of the annual SOCITM Better Connected survey.
Our internal guidelines prescribe standards for clarity of content and clear website page design and our Content Management System helps enforce standards.
Limitations
The graphics-intensive nature of interactive mapping means that the map data cannot be presented in an accessible format. However, the Services in Your Area facility allows you to search for your nearest facilities and presents the results in an accessible format.
Listening to the content
The website pages are structured to facilitate reading by screen reader software.
Web browser guidance
Our website has been designed and tested to support a wide variety of web browsers and versions on desktops, laptops, tablets and mobile phones. Our website has now been optimised for tablets and browsers so should be accessible on all supported devices. 
Most web browsers have their own tools for changing font sizes, contrast settings, etc. Please refer to their help sections for current details.
We recommend that users of our site regularly visit their browser provider's website and download current security updates to ensure safe and correct functioning of their browser software.
Javascript
The site uses JavaScript so we recommend that you enable JavaScript in your browser, most browsers are already enabled by default. The website will still function without JavaScript.