How to change this website's font and text size
It is possible to change both the font and text size of all our pages.
The quick way to change font size in Internet Explorer, Firefox and Safari is to use the zoom function:
To zoom in

 

Ctrl (cmd on a Mac) and +
To zoom out

 

Ctrl (cmd on a Mac) and -
To reset to the default

 

Ctrl (cmd on a Mac) and 0
Some browsers keep everything in proportion, increasing and decreasing page width and image size. Therefore if you zoom in you need to scroll the page sideways to read a complete line.
How to change font and text size for all web pages on Internet Explorer
To customise your view of web pages using Internet Explorer, first you must switch off default settings for fonts and colours.
1. First click on the Tools cog in the top right hand corner of the screen.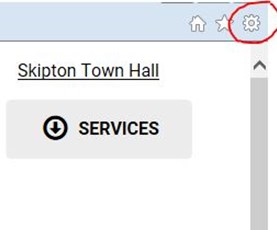 2. Then select "Internet Options" from the drop-down menu. This brings up the Internet Options box.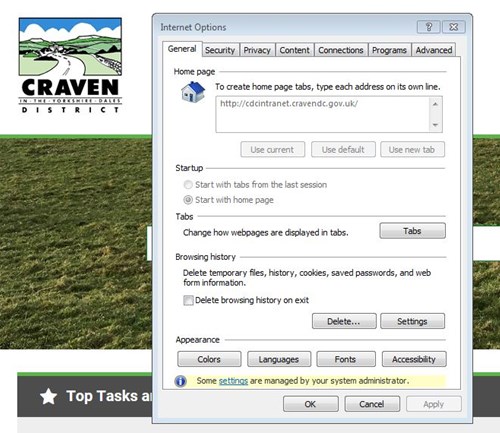 3. Click on the "Accessibility" button.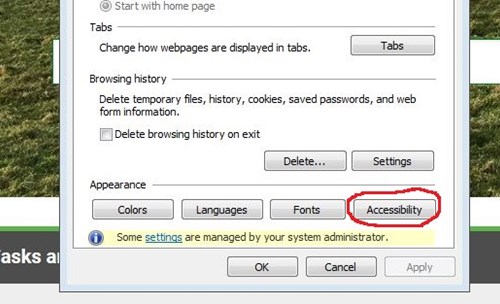 4. Now click the first three boxes (or as many as you want to customise) and click OK.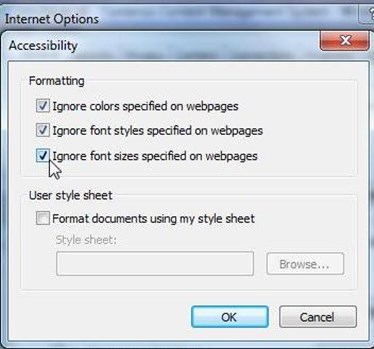 Now you can change the font, text size and colours
1. Click the Tools cog and then Internet Options.
2. On the General tab, click Fonts. The Fonts dialog box then opens.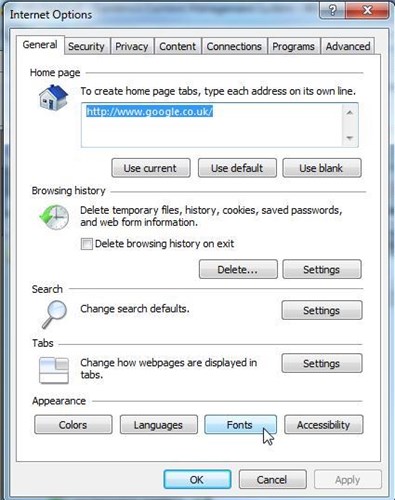 3. Choose the plain text font you prefer. A preview of the font change is shown near the bottom of the dialogue box. Click OK and the web page text will be changed to the font you have chosen. 
4. You can also now change the font size by clicking the "Tools" cog and adjusting the Zoom.
5. You can also change the colours used on web pages by clicking the "Tools" cog, selecting Internet Options, and then on the General tab click Colors.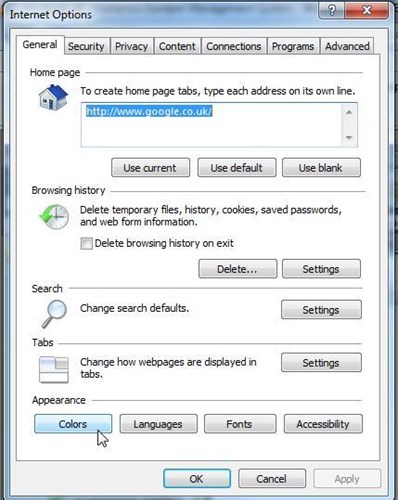 6. Click to untick the Use Windows colors box, then click each of the colour boxes in turn to select your preferred colour for the various options. Click OK to save.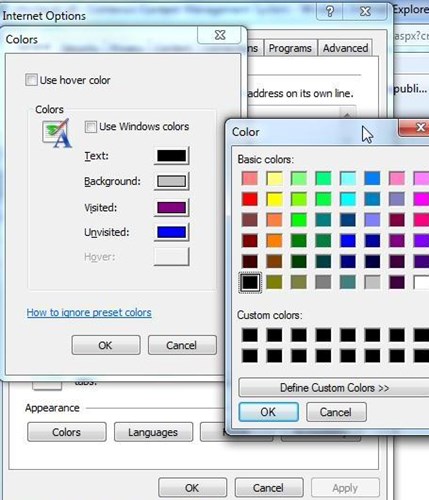 Other guidance
There is excellent help and advice on the My Web My Way website, which includes guidance on how to change font size etc. on different browsers such as Firefox, Chrome, Safari etc. 
Compliance
This website has been built to closely adhere to as many web standards as appropriate, reference has been made to the Disability Discrimination Act, PAS 78, W3C Web Accessibility Initiative,  E-GIF and Metadata standards such as the IPSV.
We aim to conform to Level AA of the World Wide Web Consortium (W3C) W3C Web Content Accessibility Guidelines 1.0
Accessibility has been measured and reported on as part of the annual SOCITM Better Connected survey.
Our internal guidelines prescribe standards for clarity of content and clear website page design and our Content Management System helps enforce standards.
Limitations
The graphics-intensive nature of interactive mapping means that the map data cannot be presented in an accessible format. However, the Services in Your Area facility allows you to search for your nearest facilities and presents the results in an accessible format.
Listening to the content
The website pages are structured to facilitate reading by screen reader software.
Web browser guidance
Our website has been designed and tested to support a wide variety of web browsers and versions on desktops, laptops, tablets and mobile phones. Our website has now been optimised for tablets and browsers so should be accessible on all supported devices. 
Most web browsers have their own tools for changing font sizes, contrast settings, etc. Please refer to their help sections for current details.
We recommend that users of our site regularly visit their browser provider's website and download current security updates to ensure safe and correct functioning of their browser software.
Javascript
The site uses JavaScript so we recommend that you enable JavaScript in your browser, most browsers are already enabled by default. The website will still function without JavaScript.