Elsey Croft, SKIPTON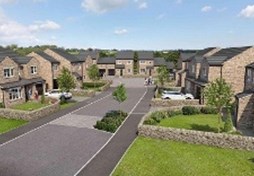 The homes are expected to be available between in Spring 2018 and will be sold on a shared ownership basis through Yorkshire Housing. A total of 14 x 2 bed homes are currently available on a shared ownership basis.
Properties
Prices for the shared ownership homes will be made available direct from Yorkshire Housing and the share you can buy will be dependant on the ability of the individual purchaser to obtain a mortgage and also the level of deposit available.
For further details please visit the Space Properties website.
In order to qualify you must have a local connection. You must:
 Have lived in the search area for 3 years out of the preceding 5
 Have previously lived in the search area for 20 years or half the person's lifetime (subject to a minimum of 10 years)
 Have immediate family (mother, father, brother or sister) who have lived in the search area for a continuous period of 10 years or more
 Have undertaken regular, permanent employment throughout the last 6 months with a company within the search area and needs to move to continue employment. The company must have been established for 3 years or more and the employment must be for 16 hours per week for a minimum of 12 months.
The search area is defined as Skipton in the first instance but in the event that no one with a local connection can be found - then the search will cascade out to the whole of Craven.
Eligibility:
 You must be registered with Help to Buy

 

For further details on the shared ownership properties please contact Leanne Morgan @ Yorkshire Housing on 0113 8256214.
What to do next
Complete a shared ownership application for on

 

http://www.helptobuyneyh.co.uk/apply
Contact Yorkshire Housing on 0113 8256214 or visit their website Space Properties