The 'new local plan', which we've been working on for the past few years, is now complete. As many of you will already know, the Craven Local Plan 2012 to 2032 was formally adopted by the Council on 12th November 2019, following a successful 18-month Examination, and the period for judicial review ended on Christmas Eve with no applications being made. In this new post-adoption environment, the planning policy team is shifting its focus from preparation to implementation of the plan.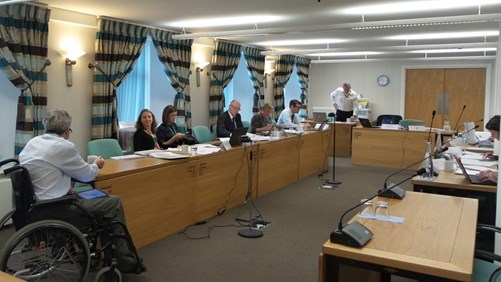 Break in a Craven Local Plan examination hearing, October 2018
Immediately before and after adoption, the team ran workshops for Council members and colleagues in development management to ensure a smooth introduction of new policies. Now we're adopting an advisory and monitoring role to ensure that plan objectives are achieved and sustainable growth is delivered. One example of this is the team's settlement growth monitoring, which tracks housing delivery in all Tier 1 to 4 settlements and assesses whether or not planned levels of growth are being met. Another is the team's engagement with people intending to bring planned development forward, several of whom have already been in contact for advice and input, with a view to submitting planning applications in the near future.
In the coming months, the team will be preparing draft supplementary planning documents (SPDs) for consultation. Once adopted, these will support the implementation of plan policies and provide additional advice to people formulating development proposals. A revised SPD timetable will be included in an updated local development scheme (LDS), which is currently being drafted for consideration by the Council's spatial planning sub-committee.
The transition from plan preparation to plan implementation is also reflected in a new suite of planning policy webpages and the planning policy newsletter, Planning Focus, has been relaunched as an online news outlet for the whole planning department.
---
This article is from the planning policy team