Yorkshire Film Festival: Chicken Run
Starring the voices of Mel Gibson, Julia Sawalha and Phil Daniels.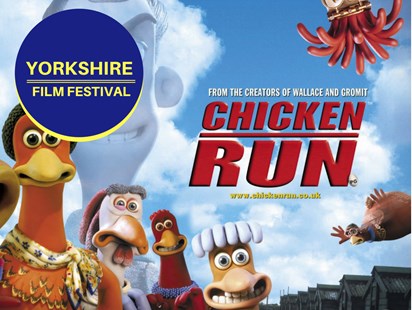 Saturday 04 August 2018 11:00 AM
Tickets £6.50 / Under 18s £5.00 / Family Ticket £15.00
Saturday 4th August
Chicken Run
11am
Rated U
Tickets £6.50 / Under 18s £5.00 / Family Ticket - £15.00 (valid for 2 adults & 2 children).
Tickets include a local Yorkshire ice cream tub!
Run Time: 1 hour 20 mins.  Film finish aprox 12.30pm
Seating Set Up: Raked seating in use for all cinema events.  All seats are unreserved.
Mrs. Tweedy and Mr. Tweedy operate a meagre poultry farm in Yorkshire, Life on Tweedy's Chicken Farm is far from pleasant for the inmates; they are badly treated by Mr Tweedy and his domineering wife, and kept alive only as long as they keep producing eggs. Ginger the hen's (voiced by Julia Sawalha) various attempts at escape have failed due to the lethargy and downright incompetence of her fellow prisoners, but when Rocky (Mel Gibson) - the famous Flying Rooster - crash lands in the farm, she sees the chance she has been waiting for: Rocky can teach everyone how to fly, and they can stage a mass break-out! However, the braggardly Rocky is not all that he seems; can he really help Ginger and the others find freedom before Mrs Tweedy (Miranda Richardson) hatches her fowl plan to turn them all into chicken pies?
 --------------------------------
Tickets available to buy online through the 'Book Tickets' link above.
Box office situated in the Tourist Information Centre 
Open 10am - 4pm, Monday to Saturday
Phone orders welcome - 01756 792809
Skipton Town Hall is committed to ensuring all customers can participate and enjoy our events; visitors who need someone to accompany them to access an event or performance can get a free carer ticket for their companion. Please call our Box Office team on 01756 792809 to request the ticket.
For all events and performances, groups purchasing 10 or more tickets will receive a 10% discount on their ticket prices. 
Click here to purchase a Film Pass or see details of all the screenings in our mini Yorkshire film festival.