WW1 Craven at War Exhibition
Open 26th October - 24th November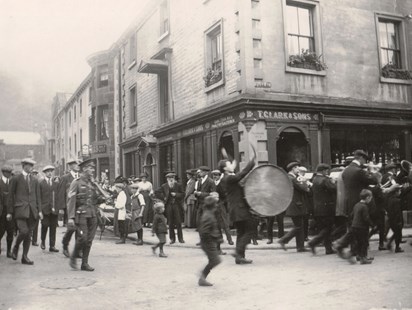 Friday 26 October 2018 - Saturday 24 November 2018
Free Entry
26th October - 24th November
New Exhibition: WW1 Craven at War
Open Monday to Saturday 10am - 4pm
Free Entry


The exhibition will follow the fortunes of the men and women of Craven through every year of the War, exploring what life like was like 100 years ago for those fighting abroad and those left behind.
Stories of individuals will be uncovered such as the Settle-born Bertram Lambert who invented the gas respirator, as well as Rev Theodore Bayley Hardy, an army chaplain from Bentham who was the most highly decorated non-combatant in the First World War.
In addition there will be a focus on the courage and fortitude shown by those serving in the local 6th and 10th Battalions of the Duke of Wellington's Regiment, as well as those who stood up for their beliefs in objecting to war.  Visitors will also gain an insight into what life was like on the home front; the effect that war had on the district, in areas such as agriculture, industry and village life, as well as how Skipton became a garrison town and later, home to captured German officers.

Newsletter
Sign up to our newsletter and get the latest town hall news straight to your inbox