Town Hall Room Hire
Skipton Town Hall has five rooms that are available to hire.
Skipton Town Hall Free wifi access available in all rooms.
Tables and chairs (up to 300) available for hire and included in the hire price with set-up.
The building is fully wheelchair accessible with a large car park located behind directly behind the Town Hall. The High Street Car Park also offers bicycle, motorbike and coach parking.  See the Getting to Skipton Town Hall page
Skipton is well located via public transport:
Skipton train station is located 0.5 miles from Skipton Town Hall and has regular links to Leeds, Bradford, Carlisle, Lancaster and Morecombe.
Skipton Bus Station is located a 5 minute walk away and served by many local and national routes.
For all enquiries please contact:
Cara Beer-Magoolagan
Skipton Town Hall Events & Marketing Officer
Room Layouts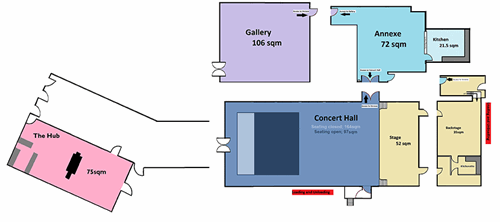 The Concert Hall

63ft in length and 34ft wide
The stage is 20ft in length and 20ft wide with access to a backstage room, two WCs and kitchenette.  
Large windows allows a lot of natural light which can be fully blacked out.
Breakout room - see

 

Annexe & Kitchen

 

for details.
Retractable seating for 156 delegates, plus an additional 91 can be positioned on the floor
Additional equipment available
Stage sound and lighting systems. 
PA equipment.
Additional 2m x 1m staging pieces 
A large cinema screen can be suspended from the stage curtain with projector. 
The Hub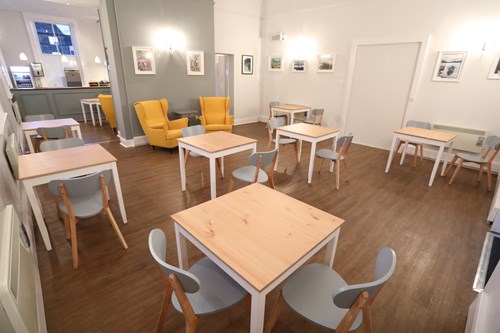 The Hub's primary use is to support the evening performances and events as an interval bar during Skipton Town Hall's own programmed performances and a bar forprivate hires.  The space is also available for community and private hire use.
40ft in length and 20ft wide, divided into two areas
Refreshment making facilities available.
Local artwork soon to be showcased on the walls
Freestanding projector & screen available
Available all day - Ideal for smaller conferences, meetings and training.
Annexe & Kitchen

41ft in length and 31ft wide with direct access to the kitchen.
An additional breakout area/catering location for the Concert Hall
Freestanding projector & screen available
Suitable for smaller meetings, conferences and training.  
A fully equipped kitchen with crockery for 70, full kitchen inventory available on request.
The Gallery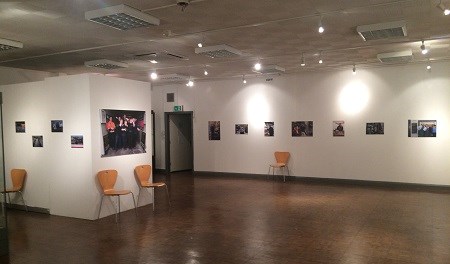 The gallery is home to an ever changing eclectic mix of museum artefacts and perfect for smaller audiences of up to 20, available Monday to Saturday from 4pm onwards and all day Sunday.
Brightly lit space
Maximum occupancy 20
Direct access to Annexe, Tourist Information Centre & Museum (upstairs)
For further information on room hire please call 01756 706 337 or email Cara Beer-Magoolagan. 
Download the Skipton Town Hall room booking application form
Download the Skipton Town Hall room booking terms and conditions
Newsletter
Sign up to our newsletter and get the latest town hall news straight to your inbox