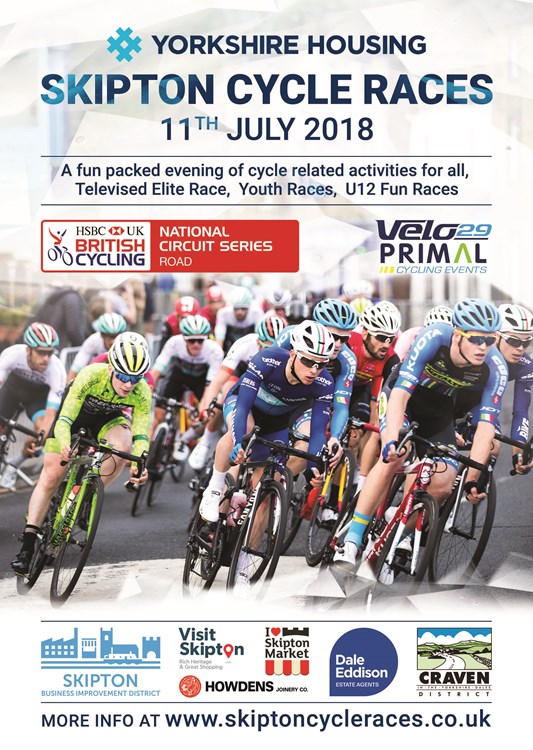 Dozens of world-class cyclists will take part in the exciting HSBC UK National Circuit Series race, which will be televised.
Spectating is free for the event, which will see the cyclists speeding round a 1km circuit from Skipton High Street, along Water Street, Coach Street, Swadford Street and back up the High Street.
There will be under-12 fun races from 6pm to 6.30pm, followed by youth races from 6.45pm to 7.30pm, and the HSBC National Circuit Series elite men's race from 7.45pm to 8.45pm.
Road closures and parking
Traffic management will begin at 4pm with Stop/Go signs to manage traffic between Newmarket Street and Keighley Road/Swadford Street.
Parking charges on the Council car parks will be suspended from 4:30pm. There will still be access to the Town Hall car park via the Rectory Lane entrance but not to Coach Street car park after 4:45pm.
Parking will be suspended on Skipton High Street and Water Street all afternoon and evening on July 11.
At 4.15pm the High Street will be closed for its entire length, with the northern roundabout open until 4.45pm when there will be a full lock-down of the entire course. However, there will be access to leave Coach Street car park until 6pm.
From 4.55pm the full course will be closed - High Street, Mill Bridge, Water Street, Coach Street, Swadford Street/Belmont Bridge. 
All roads except the High Street will re-open by around 10pm and the High Street will open by around 11pm.
The races are organised by Craven District Council, supported by Skipton BID and sponsored by Yorkshire Housing, Dale Eddison Estate Agents, Howden's Joinery, and Skipton Market.
To find out more and to enter the fun races go to www.skiptoncycleraces.co.uk
Start list for elite men's race
Please note teams can change their riders until 1 hour before the event.
| | | | |
| --- | --- | --- | --- |
| 1 | Jonathan | Mould | JLT Condor |
| 2 | Graham | Briggs | JLT Condor |
| 3 | Germain | Burton | JLT Condor |
| 4 | Edward | Clancy OBE | JLT Condor |
| 5 | Matthew | Gibson | JLT Condor |
| 6 | Thomas | Moses | JLT Condor |
| 7 | Thomas | Stewart | JLT Condor |
| 8 | Oliver | Wood | JLT Condor |
| 9 | Matthew | Nowell | Canyon Eisberg |
| 10 | Charles | Page | Canyon Eisberg |
| 11 | Alex | Paton | Canyon Eisberg |
| 12 | Jack | Pullar | Canyon Eisberg |
| 13 | Harry | Tanfield | Canyon Eisberg |
| 14 | Rory | Townsend | Canyon Eisberg |
| 15 | George | Atkins | Madison Genesis |
| 16 | Richard | Handley | Madison Genesis |
| 17 | Tobyn | Horton | Madison Genesis |
| 18 | Jonathan | McEvoy | Madison Genesis |
| 19 | Isaac | Mundy | Madison Genesis |
| 20 | George | Pym | Madison Genesis |
| 21 | Erick | Rowsell | Madison Genesis |
| 22 | Connor | Swift | Madison Genesis |
| 23 | Thomas | Baylis | One Pro Cycling |
| 24 | Christopher | Latham | One Pro Cycling |
| 25 | Jacob | Scott | One Pro Cycling |
| 26 | Peter | Williams | One Pro Cycling |
| 27 | Gabriel | Cullaigh | Team Wiggins |
| 28 | Mark | Donovan | Team Wiggins |
| 29 | Dylan | Kerfoot-Robson | Team Wiggins |
| 30 | Thomas | Pidcock | Team Wiggins |
| 31 | Jacques | Sauvagnargues | Team Wiggins |
| 32 | Robert | Scott | Team Wiggins |
| 33 | Joey | Walker | Team Wiggins |
| 34 | Reece | Wood | Team Wiggins |
| 35 | Julio Alberto | Amores Palacios | Vitus Pro Cycling |
| 36 | Liam | Davies | Vitus Pro Cycling |
| 37 | Joshua | Hunt | Vitus Pro Cycling |
| 38 | Harrison | Jones | Vitus Pro Cycling |
| 39 | Adam | Kenway | Vitus Pro Cycling |
| 40 | Grant | Martin | Vitus Pro Cycling |
| 41 | Bertie | Newey | Vitus Pro Cycling |
| 42 | Andy | Shackel | Vitus Pro Cycling |
| 43 | Matthew | Bostock | 100% ME |
| 44 | Rhys | Britton | 100% ME |
| 45 | Ethan | Hayter | 100% ME |
| 46 | Joe | Holt | 100% ME |
| 47 | Joseph | Nally | 100% ME |
| 48 | Jake | Stewart | 100% ME |
| 49 | Matthew | Walls | 100% ME |
| 50 | Fred | Wright | 100% ME |
| 51 | Joe | Evans | Saint Piran |
| 52 | Cameron | Jeffers | Saint Piran |
| 53 | Fraser | Martin | Saint Piran |
| 54 | Alex | Harvey | Team KTM UK |
| 55 | Oliver | Peckover | Team KTM UK |
| 56 | Fraser | Rounds | Team KTM UK |
| 57 | Julian | Varley | Team KTM UK |
| 58 | Matthew | Clarke | Wheelbase Castelli MGD |
| 59 | Angus | Claxton | Wheelbase Castelli MGD |
| 60 | Finn | Crockett | Wheelbase Castelli MGD |
| 61 | Jordan | Doig | Wheelbase Castelli MGD |
| 62 | David | Lines | Wheelbase Castelli MGD |
| 63 | Alex | Orrell-Turner | Wheelbase Castelli MGD |
| 64 | Stuart | Reid | Wheelbase Castelli MGD |
| 65 | Joe | Swinnerton | Wheelbase Castelli MGD |
| 66 | James | Coates | Otley CC |
| 67 | Tom | Cullen | Otley CC |
| 68 | William | Brown | Ribble Cycling |
| 69 | Chris | Sherriffs | Ribble Cycling |
| 70 | Marcus | Burnett | Spirit Tifosi Racing Team |
| 71 | Christopher | Dredge | Spirit Tifosi Racing Team |
| 72 | Euan | Cameron | Wheelbase Cabtech Junior RT |
| 73 | William | Orrell-Turner | Wheelbase Cabtech Junior RT |
| 74 | Nicholas | Cooper | ActiveEdge Race Team |
| 75 | Matthew | Taylor | Albion Cycling Co |
| 76 | Jamie | Ridehalgh | Amicale Cycliste Bisontine |
| 77 | Hamish | Graham | Green Jersey RT |
| 78 | George | Wood | Richardsons-Trek RT |
| 79 | Alex | Ridehalgh | Spokes Racing Team |
| 80 | Joe | Burns | Sportcity Velo |
| Reserves |   |   |   |
| 81 | Cameron | Blake | Prologue Racing Team |
| 82 | Harvey | Stroh | Team SB Hub |
| 83 | Thomas | Ashcroft | Bott Cycle Team |
| 84 | William | Harper | Saint Piran |
| 85 | Will | Fox | Team KTM UK |
| 86 | Samuel | Watson | PH-MAS/Paul Milnes Cycles |