We are providing a one off garden waste collection to current garden waste subscribers in January.  Collections will take place on subscribers' normal collection day during the following weeks:
Week One collections – Week commencing 15 January
Week Two collections – Week commencing 22 January
We will also be providing a free Christmas Tree collection service which will run alongside the one off garden waste service. If you are a garden waste subscriber, you can leave your tree at the side of your brown bin ready for collection. Trees must be in sections no bigger than 4ft in length and all decorations must be removed.
The fortnightly garden waste collection service is an annual subscription service which provides a simple and cost effective way to dispose of your garden waste.
Residents who subscribe to the service will be required to pay a small annual fee and will be provided with a brown 240 litre wheeled bin which will be emptied every two weeks from March to November.  There are no collections during the winter months December to February. Residents are required to place the brown bin at the edge of their property, by 6.30am on the day of collection, with the licence displayed. 
---
Garden waste collection charges
The subscription charge for 2018/2019 will be confirmed shortly. This charge is payable in advance.  This is a non-refundable fixed cost for the 12 month period running from 1 April 2018 to 31 March 2019.  If you wish to present more than one bin for emptying you will need to pay an extra subscription charge for each additional bin. 
New subscribers - register an interest
If you would like to join the Council's garden waste collection service for 2018/19 please use our Register of interest form. Our Waste Management team will then contact you to advise if your address is eligible for the service.
Receiving and using your new licence
Once payment has been received, you will receive a letter confirming that you have subscribed to the service along with your licence. The licence will need to be affixed to the handle of your bin using the cable tie provided as this indicates to the collection crew that you have paid for the service.
Only your address and the expiry date will appear on the licence. Bins presented for collection with no valid licence will not be emptied.
Please note for those who subscribe to the service on or before 5 March 2018, can expect to receive their licence in the week commencing 20 March 2018. Residents subscribing after this date can expect to receive their licence within 14 days of making payment.

If you do not receive your licence within 14 days of making payment please contact our Customer Services Team on 01756 700600.
Other information
Can I join part way through the year?
You can join the scheme at any time however you will be required to pay the full annual amount, so join early to benefit from the maximum number of collections.
Are all Craven properties eligible for the service?
Please note that unfortunately, it is not possible for us to include all properties in the District on the garden waste collection service. Properties that are not eligible for the service can compost their garden waste at home or alternatively can be taken to your local household waste recycle centre free of charge of composting.
Moving house
The garden waste licence is only valid for the property for which it was originally purchased and is non-transferable.  Unfortunately we cannot offer a refund if you move within or outside of the district or to a property where you no longer require the garden waste service.  However you may leave your licence for the new occupants if there is any remaining term remaining.
Share with a neighbour
If you would like to share your brown bin with a neighbour (you can share the service charge with them, informally).  We will require the full amount and the bin will need to registered and collected at one address.
Requesting a replacement bin
Please use our online form to request a replacement brown bin, to request a replacement brown bin if yours has been lost, stolen, or damaged.  Please note a charge may be made to replace lost/stolen bins.
Lost or stolen licence
Please tell us about this using our online form to report a lost or stolen licence.
Missed collections
To report a missed collection of your refuse and/or recycling, please complete our online form: Report a missed bin collection.
What if I don't want to renew my subscription?
Residents who do not wish to renew their subscription may use this this online form to request removal of a brown bin.
Garden waste can either be taken to your nearest household waste recycling centre for composting free of charge, alternatively can be composted at home
Where does the garden waste go?
We collect approximately 3,400 tonnes of garden waste per year which is composted at Yorwaste's Composting Facility at Scorton in Richmond, North Yorkshire.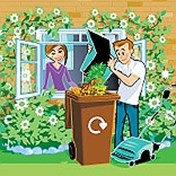 What can go in the brown bin? 
Grass cuttings
Hedge clippings
Tree and bush prunings
Weeds and plants
Dead flowers and houseplants
Leaves
Fallen garden vegetables or fruit
We will
 

not

 

take...
Flower trays, pots, or plastic
Large branches
Paper or cardboard
Kitchen or catering waste
Wood
Soil or stones
Any other household waste
Home composting
Home composting is an alternative to garden waste collection or helps reduce the volume that has to be carried away, and it's good for your garden. 
Special offer compost bins
The York and North Yorkshire Waste Partnership is offering residents in York and North Yorkshire the chance to purchase compost bins at a fantastic price. Subsidised compost bins are available in two sizes for all residents, with delivery to your address.
Compost bins are now priced at just £8.00 and £10.00 (plus £5.99 delivery).  You can also 'buy one, get one half price' when you buy two of the same bin.
Two sizes of compost bin are available:
220-litre Compost Converter at £8.00 (excluding delivery) 
330-litre Compost Converter at £10.00 (excluding delivery) 
Full details are available on this leaflet (PDF, 2 pages, 3mb)
Other products such as caddies, wormeries and kitchen composters can also be purchased.
To order a bin, call 0844 571 4444 or please visit www.getcomposting.com.
Compost bins from a garden centre typically cost £40 so you can save a lot by buying bins this way.
Both the 220 litre and 330 litre compost bins are called Compost Converters. The units are made from 100% recycled plastic with windproof secure push-fit lid and removable side hatch. The bins are guaranteed for 15 years.
Compost at Home booklet now available
The 'Composting at Home' booklet is a quick and easy guide to composting at home and advice on using your finished compost.  If you would like a copy, please contact Waste Management on 01756 700600 or email wastemanagement@cravendc.gov.uk