Aireville Park is a large open space with sporting facilities and play areas in the heart of Skipton.
It dates back to the 1830s when it was created by Henry Allcock as part of the Aireville Estate. Upon his death, wealthy Skipton mill owners, the Dewhurst family, purchased the estate and Aireville Hall.
Aireville Park is home of the annual Skipton Triathlon, the largest pool-based triathlon in Yorkshire and Humberside. It also is the venue for the weekly Skipton parkrun every Saturday morning at 9am.
Aireville Park is available for organisations to book open air outdoor events. For an informal discussion contact Craven Leisure on 01756 792805 or email cravenleisure.CRA@northyorks.gov.uk.
Facilities
The park boasts:
Children's play areas
Wheel park for BMX, skateboards and rollerblades
Pump track for bicycles
Multi Use Games Area, offering football, tennis, netball and basketball
Revive café – for hot and cold drinks, ice creams, snacks and meals
New Park Masterplan 2020-2025
Help us shape the future of Aireville Park to meet everyone's needs.
Aireville Park has been improved considerably over the last five years with new facilities including the fabulous new playground, skate park and pump track. Craven District Council is working with Friends of Aireville Park and other park groups to develop a new plan to further improve this much-loved local green space.
New Play Area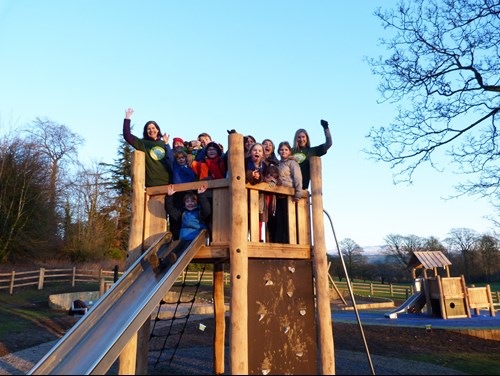 In January 2019 a brand-new children's playground opened – with an exciting range of play equipment including climbing frames, slides, swings, tunnels, a spinning swing, a den-building area, a sand-pit, musical instruments and a willow dome and tunnel.
Craven District Council has worked in partnership with the Friends of Aireville Park to improve the park's facilities including the new play are so far funds raised for the project now total over £200,000.
Supporters of New Play Area and Park
Thanks to the many local businesses, donors and sponsors who have helped to fund the new play area which are all listed below:
Yorventure
Craven Trust
The Coulthurst Trust
Tarn Moor Trust
Skipton BID
Grandmaster
Skipton Mechanics' Institute
Police and Crime Commissioner Fund
Tesco Bags for Help
Leeds Building Society Community Reward Scheme
Walk For Jodie, set up in memory of Jodie Willsher,
Holt Doctors Ltd, J N Bentley, Mewies Solicitors, Peter Watson Ltd and Skipton Self Drive Hire, Keelham Farm Shop, RKB Electrical Ltd, and Walker Foster Solicitors, Skipton Craven Rotary Club and Skipton Rotary Club
Skipton Ukulele Club
Local councillors; Chris Harbron, Andy Solloway and John Dawson via their Ward Member Grant.
Get Involved - Friends of Aireville Park
Community group Friends of Aireville Park give a local voice to the park. We worked with the group to develop a master plan of improvements for the park (this included the new play area, pump track and skate park) and they have been instrumental in fundraising to deliver the plan.
The group organise regular litter picks and events and are very welcome to anyone who would like to get involved. More information can be found on the Friends of Aireville Park website