Take some time out of your day to revive.
Indoor and outdoor dining, along with usual takeaway service.
Craven Leisure members get 10% discount on all orders.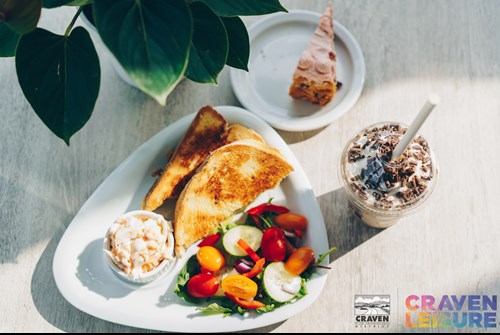 After a stroll in the park why not warm up with one of our award-winning coffees, topped off with a piece of homemade cake. 
We will also offer a range of sandwiches and toasties for takeaway, or treat yourself to our new Greek Salad.
Smaller portions for smaller appetites are available for those spur of the moment park visits, along with our children's picnic boxes.
Or maybe you just need a little pick me up - stop by for an ice cream or a cold drink. 
We will be offering protein shakes and various cakes for those who need a boost before or after their workout.
Opening times:
Monday - Friday: 9.00am-5.00pm
Weekend: 9.30am - 3.30pm
Feel free to take a look at our current menu.