Our Pre School learn to swim classes are the perfect starting point to swim independently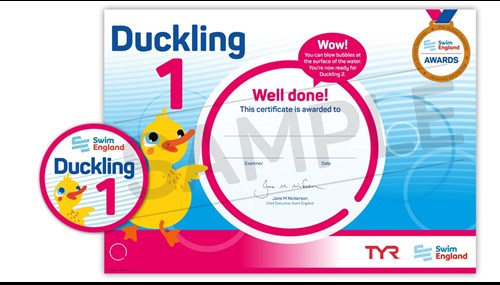 Duckling Awards
These Swim England Pre-School Framework Awards are a natural follow on from the Parent and child classes we offer. They are aimed at children who are aged 3-4 years old and able to follow instructions and can move on their own.
They give the child more independence and start to build their confidence in water. These Awards are used to slowly build up the child ready for the Learn to Swim Framework Stages 1-7.
The lessons are delivered by a teacher in the water and are small groups of up-to 6 children.
Lessons run term time only all year round.
Monday 11.30 am - 12.00 pm 
Wednesday 11.30 am - 12.00 pm
Thursday 11.00 am - 11.30 am / 11.30 am - 12.00 pm
Friday 11.30 am - 12.00 pm  
Helping your child develop water confidence
Parents can play an active role in increasing water confidence in young children from an early age. Using bath time activities is an easy to introduce children to the water.
Bath-time can help to introduce your child to a number of aquatic experiences in a warm and comfortable environment.
Children should be encouraged and helped to wet their faces, tummies, splash, blow bubbles, sing and play in the bath to get them used to the water. A skill which can take a lot of time to master is laying back in the water. Filling the bath deep enough to cover there ears when laying back will really help their progress.