Please send us an enquiry for information about advertising and event sponsorship
---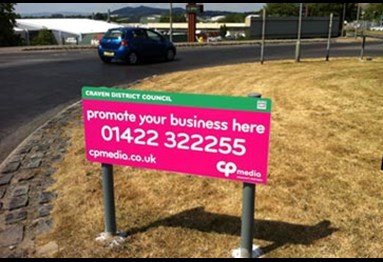 Roundabout Advertising
With up to 850,000 passing vehicles every month, roundabout sponsorship is a highly revered, valuable and visible advertising channel.
Roundabout sponsorship will not only enhance the profile and local awareness of your business, but you will also be supporting the local environment.
Perfect for local businesses looking for effective local advertising, roundabout sponsorship is a socially responsible platform that helps support a number of council initiatives from highways maintenance to public amenities and services.
---
Car Park Advertising
Target potential customers in our busy town centre car parks. With this channel you have the potential to get your business name in front of over 30,000 potential customers each month. There are 6 car parks with advertising space across the district:
High Street Car Park, Skipton
Waller Hill Car Park, Skipton
Cavendish Street Car Park, Skipton
Coach Street Car Park, Skipton
Whitefriars Car Park, Settle
Community Centre Car Park, Ingleton
---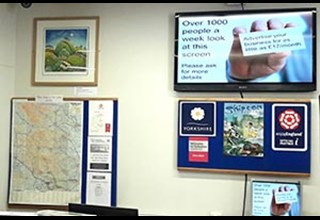 Information Screen Advertising
We have two information screens; one at our Council Offices at Belle Vue Square and the other at the Tourist Information Centre at the Town Hall. Both attract a high foot fall of visitors.
The screen in the Tourist Information Centre is viewed by over 1,000 people a week attracting tourists from all over the country.
Circa 500 people see the screen in the Council offices each week, providing a great opportunity to engage with the local community.
Monthly costs start from as little as £20 + VAT with discounted rates for promoting at both sites.
---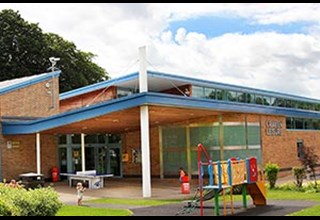 Craven Leisure Advertising
Located in Aireville Park, Craven Leisure is a busy council run leisure centre with high foot fall. Offering a comprehensive range of activities for members and non-members and acting as a meeting point for local sports groups and clubs, the centre provides a hub for the local community.
Advertise at Craven Leisure and promote your business to a weekly audience of 6,700 visitors, via a varied portfolio of advertising sites including digital screens and internal and external poster sites. Options are available for all budgets.
---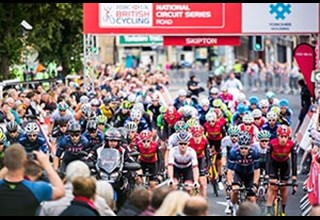 Event Sponsorship
We host a broad range of popular events that receive excellent support in local and specialist press and attract visitors from all over the country.
If you would like your business to benefit from the publicity and awareness that these events generate, we have opportunities to suit all budgets. From main sponsorship and associate sponsorship packages to stalls to promote your goods and services, prices start from as little as £50.
---
Please send us an enquiry for information about advertising and event sponsorship