Town Hall Development
The aim of the Council is to secure a sustainable future for a restored and improved Town Hall for use by the local community.
Skipton Town Hall is undergoing an important redevelopment; the beautiful Victorian Grade II listed building is undergoing a significant improvement and redevelopment programme as it progresses its plans to become a sustainable and important cultural hub for our Craven community, surrounding areas, and visitors.
Craven District Council is renovating the Town Hall in three phases, with phases 1 and 2 now complete.
Phase 1 & 2
What have we done?
Created a new accessible entrance from Jerry Croft;
Removed the outdated wheelchair lift from the High Street entrance steps and restored stonework;
Installed an internal accessible lift to the first floor Council Chamber and suite of offices to let;
Demolished the old ground floor toilets and built new updated facilities in their place;
Undertook internal alterations to allow commercial space at ground and first floor level at the front of the building, including letting 17-19 High Street as a self-contained unit (letting income contributes to overall financial sustainability)
Undertook a rebranding exercise with Dementia friendly guidance at its core and began implementation of new signage;
Began redecoration works, including lime plasterwork in the High Street entrance foyer;
Installed a new heating boiler;
Repaired external stonework, including stabilising the balcony;
Begun improvements to the Concert Hall facilities with introduction of new blackout, acoustic glaze, tiered seating, stalls seating, acoustic panels, sound and light systems.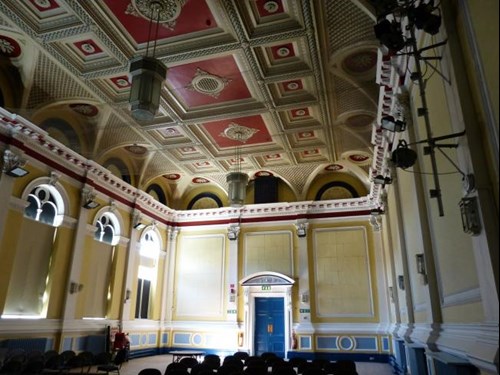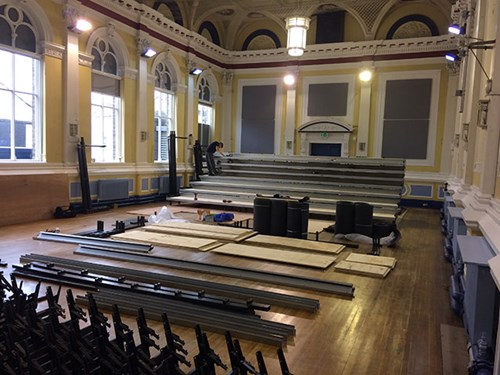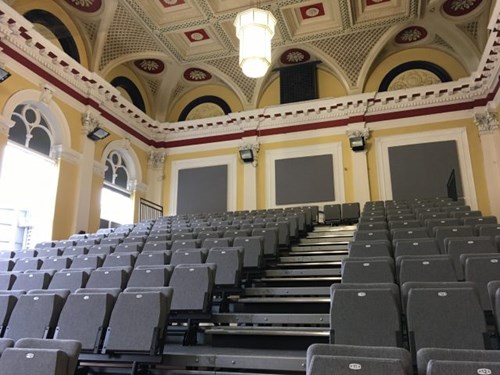 Phase 3
What are we doing?
Altering and improving Craven Museum and Exhibition Gallery, and the Tourist Information area with a full redesign of the Museum, bringing it to the ground floor, reinterpreting the collections and fully integrating visitor services with TIC;
Restoring the Concert Hall plasterwork, including the ceiling behind the current stage;
Redecorating the Concert Hall;
Creating a dedicated education space, museum store and research facility, along with flexible use changing rooms and toilets, including a Changing Places (CP) toilet to the rear of the building;
Installing two accessible lifts to the front of the new museum and within the rear extension to ensure the building is fully accessible for all visitors and performers;
Continuing work to improve sound and light facilities for performances and events;
Completion of redecoration and picture hanging in the High Street entrance foyer
When are we doing it?
We have recently been awarded a £1.5m grant from the Heritage Lottery Fund for our redevelopment of Craven Museum and Exhibition Gallery, which, along with investment from CDC and from fundraising still in progress, will allow the full redevelopment project to begin. Phase 3 is currently scheduled to start by April 2018.
A public consultation on the plans for Skipton Town Hall and future design and interpretation of Craven Museum and Exhibition Gallery was undertaken in summer 2017, please see below the visuals of architectural plans.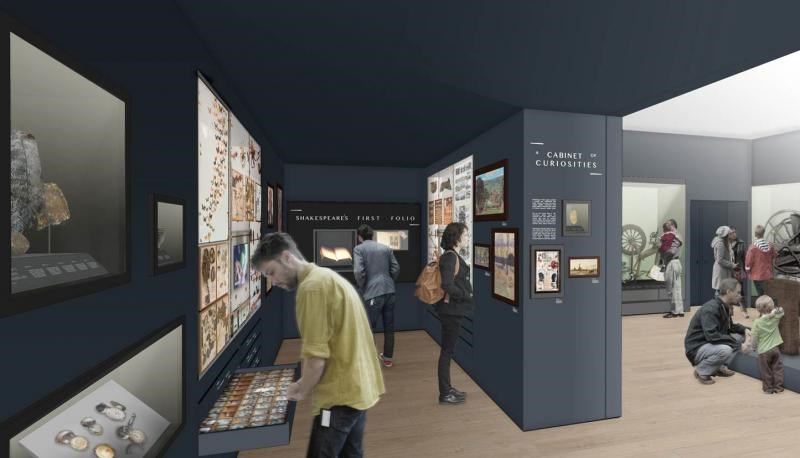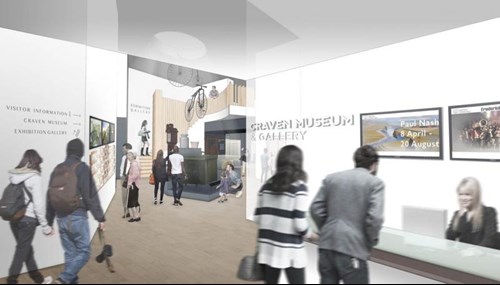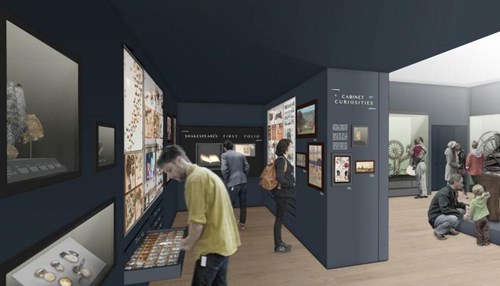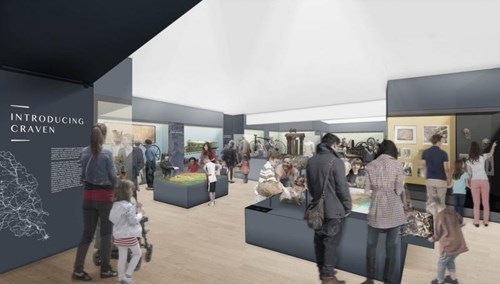 Newsletter
Sign up to our newsletter and get the latest town hall news straight to your inbox