A green future: How Craven residents are leading the change towards a climate-friendly future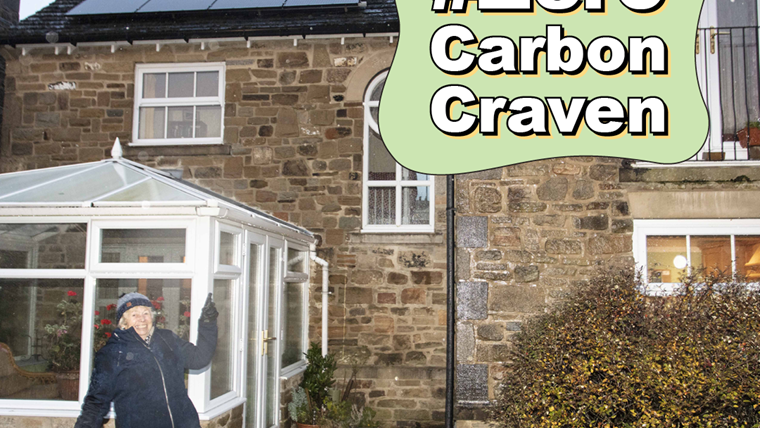 Skipton resident Myfanwy Trueman has benefitted from her energy generation at home
Residents in Craven are being encouraged to take small, but vital steps to tackle climate change. 
Many householders and organisations have already begun their journey to a greener future by retrofitting their homes. They've made changes to improve their home's energy efficiency – while also helping to control rising fuel bills.  
Among those is Settle resident Paul Cochrane, who has not only replaced his windows with triple glazing, but installed insulation to the walls and roof of his house – resulting in a cosier and warmer home. Whilst the windows were installed by a local contractor, Paul decided to get stuck in and installed the loft insulation himself. 
Paul said: "We've done some major work on the house, but some changes can make a big difference too." 
Meanwhile, reducing heat and electricity bills are not the only benefits Skipton resident Myfanwy Trueman has benefitted from her energy generation at home. Since installing solar PV panels and solar heating in her house, she's been inspired to buy a plug-in hybrid car, which she hopes the solar PV panels will help offset any costs of charging her new purchase.  
As fuel costs soar, another way to improve energy efficiency and reduce bills is what Julie Greenwood, of Embsay did. Installing an air-source heat pump has helped to control Julie's gas bills, whilst keeping her semi-detached home warm and cosy.  
For Julie, part of the appeal of the heat pump was the ability to claim a government grant for using renewable energy. Deadline to apply for the grant, entitled 'Renewable Heat Incentive' is due to close on March 31st-. 
Craven District Council's "Zero Carbon Craven" project - a £1.2m. project 50% funded by the European Regional Development Fund – has also retrofitted Craven council's buildings to reduce carbon emissions, which is also helping to tackle the Council's contribution to climate change. The insulation and solar panel works at both the Town hall and Crematorium are expected to save carbon every year equivalent to planting 60 large trees.
To find out more about what you can do to control your bills, insulate your home or consider installing renewables, join an online webinar on 28th March, between 7-8pm to hear from experts on the topic and ask questions. Visit: https://zero_carbon_craven_energy_webinar.eventbrite.co.uk to register for free
You can follow these three simple steps to tackle rising bills: 
Reduce your energy demand – or 'waste not, want not' by turning things off using timers and settings to be savvy and in control of our home energy use. This is free (or cheap) and relatively easy whether your are renting or a homeowner and can shave hundreds off rising bills. 
Get energy efficient - keeping the heat in with better insulation and using more efficient appliances and lighting.
Install renewables – only then consider generating your own energy to get your home fit for the future and protect against energy price rises – and looking out for schemes that can help fund this.    
 For more tips on saving energy and how to get started, visit: https://www.cravendc.gov.uk/housing/quick-tips-to-save-energy