All-weather shade sail installed at Aireville Park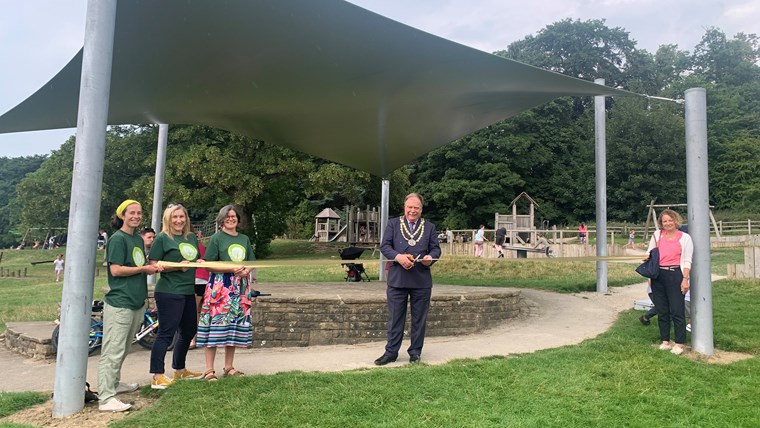 Cllr Simon Myers declares the new Shade Sail at Aireville Park officially open, watched by (from left) Katie Birks, Sarah Copeland and Fiona Protheroe of FoAP and (right) Sharon Hudson of CDC. 
A shade sail is the latest addition to Aireville Park in Skipton so families can shelter from the sun or rain, depending on the weather.
The visually appealing cover, which has been designed by a local canopy expert, was installed above the bandstand on Thursday (August 11th), thanks to Craven District Council, Friends of Aireville Park, The Craven Trust and developers RN Wooler.
The move is part of a masterplan project which was first developed in 2013 and then consulted on again in 2019. The Council has worked with members of the public, users of the park, local ward members and the Friends group to develop the plan in order for there to be a broad agreement on priority projects for the park.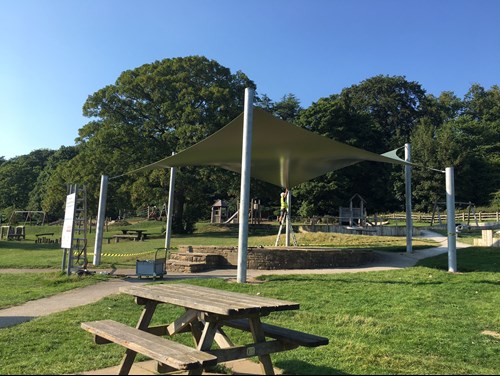 Welcoming the all-weather cover, which is made of recycled material, Craven District Council's chairman and lead member for enterprise, Cllr Simon Myers, said: "I am pleased to see the new shade sail is now installed, creating a safer and more inviting space for both adults and children who use the fun-filled play facilities of Aireville Park.
"The pandemic coupled with climate change has increased awareness of the importance of sheltered outdoor spaces, not to mention the mental health benefits of being able to meet up safely in the fresh air. I would like to thank everyone involved in this fantastic project to make it a reality and hope the local community enjoy it."
Fiona Protheroe, Chair of Friends of Aireville Park, added: "It's great to see there is now an area of shelter when children are playing in the park and it starts to rain or it's extremely hot and people require some shade. Aireville Park play area is a popular destination for families since it opened in 2019 and a number of community events are held each year attracting hundreds of people from far and wide. We look forward to seeing more events in the future held at the park under the cover."
She went onto say: "I would like to pay tribute to the hard work and dedication of our volunteers and to The Skipton Community Orchestra for their fundraising efforts. A special thanks to The Craven Trust  - a grant-making charity supporting community projects in the Craven area - for their generous donation."
Since Aireville Park playground opened three years ago, the facility has seen a huge increase in footfall, however, there were no sheltered spaces for park users. Now, locals and visitors can utilise the weatherproof canopy, making playing time an enjoyable experience. In addition, it has created an exciting performance venue in the park.