You are here:
Stay safe during the Platinum Jubilee Bank Holiday with our taxi safety advice
Stay safe during the Platinum Jubilee Bank Holiday with our taxi safety advice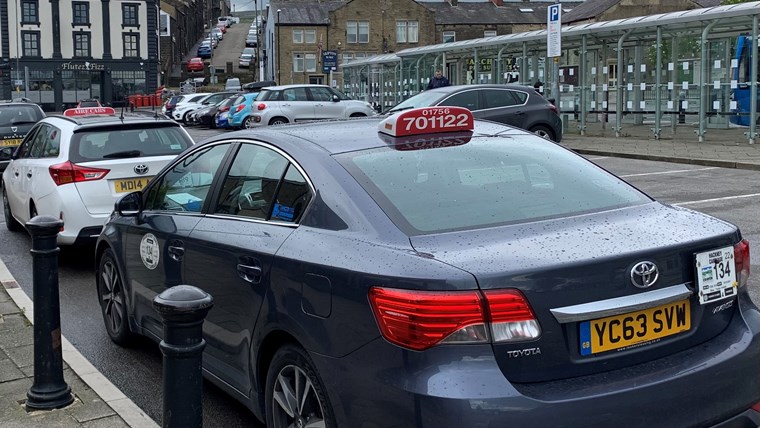 The Council's Licensing Team prides itself on the high standard and robust taxi policy it has to promote public safety
People in Craven are being reminded about how to stay safe during the special four-day Bank Holiday to celebrate the Queen's Platinum Jubilee.
Craven District Council is advising how to spot licensed taxis (Hackney Carriage and Private Hire Vehicles) in order for residents to get home safely over the celebratory period.
Cllr Chris Moorby, Chair of Craven District Council's Licensing Committee, said: "With many people celebrating the Queen's Platinum Jubilee, many of us will be planning trips out with family and friends and nights out on the town. If you are planning to use a taxi, regardless of if you use a taxi in Craven or elsewhere, all taxis must be licensed and display a licence plate and licence number on the rear of the vehicle. Please note, Craven vehicles will display either a white or red rear plate. Always check and note the unique licence number and the licensing authority before entering into a taxi."
The Council's Licensing Team prides itself on the high standard and robust taxi policy it has to promote public safety by:
Carrying out enhanced DBS checks on drivers
Ensuring all drivers undertake enhanced driving tests
Maintaining rigorous vehicle testing on vehicles
Checking all vehicles are equipped with in-vehicle CCTV
Ensuring drivers undergo safeguarding awareness
Using vehicles not licensed by Craven District Council may not meet these same high standards. Here, are a few tips about how you can stay safe as you head out to celebrate the Queen's Platinum Jubilee when using a taxi:
Plan how you are getting home from trips and evenings out well in advance and pre-book a taxi If you need a taxi home, use official taxi ranks and remember these vehicles must charge by the meter.
If you do book a taxi, when it arrives, check it is the one you booked by asking for the name in which it was booked. If in doubt, don't get in.
All licensed taxi drivers will be wearing an ID badge to help you identify your driver.
It is an offence for private hire drivers to accept an unbooked fare and their insurance may be invalid, so always use hackney carriages unless you book a private hire journey in advance.
For more information about taxi licences, visit: https://www.cravendc.gov.uk/licensing/taxi-and-hackney-carriages/staying-safe-guidance-for-passengers-using-taxis/