Gigabit Broadband to be made available at rural workplace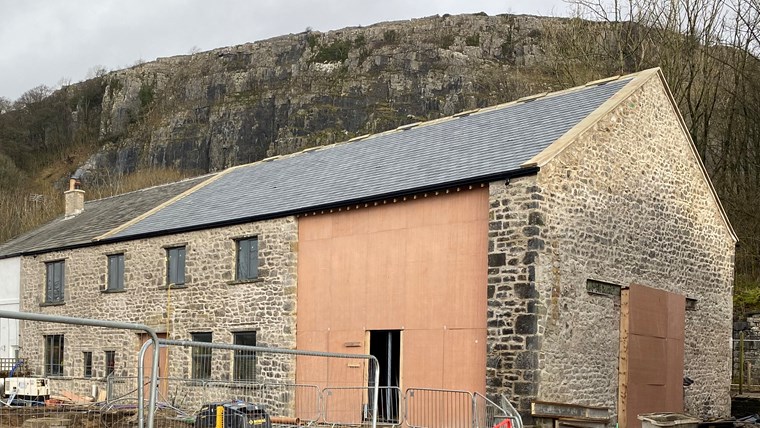 Work is progressing nicely at the Langcliffe Quarry Enterprise Centre
Businesses at a new, purpose-built rural enterprise facility are set to benefit from fast, reliable broadband connectivity as part of a £50k investment by Craven District Council.
The former waste management depot at Langcliffe Quarry, in the heart of the Yorkshire Dales National Park, is being redeveloped by Craven District Council to create a hub that will accommodate a cross-section of new, early stage and growing businesses, including co-working space and shared facilities such as training and meeting rooms.
The facility, which supports new and existing businesses to grow and prosper, is being funded by the York & North Yorkshire Local Enterprise Partnership and the European Regional Development Fund (ERDF).
However, for firms to benefit from, and have greater options for their digital connectivity, plans are being explored with the rural broadband network, Broadband for the Rural North or 'B4RN', to help secure fast, reliable internet connections.
B4RN, a community benefit society based in the Lune Valley, offers their customers a 1,000Mbps fibre to the premise connection with the network noting itself as being future proof with the option to increase connection speeds as required with a 10Gbs (10,000Mbps) service also currently available.
The use of digital technology is transforming the way in which businesses operate, helping them to gain a competitive edge and achieve long term success. The availability of gigabit connectivity at Langcliffe Quarry, along with access to business support and training opportunities will help businesses efficiently manage their online presence, sales, and marketing to help achieve improved productivity and efficiency from a base located in the National Park.
In delivering a connection B4RN is finalising the route to the Enterprise Centre which will include the need to cross the river Ribble and the Settle to Carlisle railway. Subject to confirmation of a deliverable route, the Council will fund the works required to connect Langcliffe Quarry should tenants wish to subscribe to B4RN.
At Tuesday evening's Full Council meeting (February 22), Councillor Simon Myers, Lead Member for Enterprising Craven, said: "Making sure the new Enterprise Centre has access to gigabit broadband is key to the centre's success, so we are delighted to be working with B4RN to enable a choice for businesses.
"B4RN has continued to expand within Craven through the hard work of a series of community led initiatives. This expansion by the District Council enables more businesses and premises to benefit from gigabit broadband speeds and I hope it will help facilitate more communities to benefit from the opportunities B4RN can provide."
Speaking about the connectivity boost, a spokesman for B4RN, said: "B4RN specialises in 'reaching the hard-to-reach'. As a not-for-profit Community Benefit Society, our volunteers and staff have transformed hundreds of rural businesses over the last decade by connecting them to the gigabit full fibre broadband. It's a level of connectivity which is the envy of the big cities and helps keep jobs and families local."
Completion of the business units at the Langcliffe Quarry Enterprise Centre is scheduled for May 2022. For further information on the availability of business units please contact Atkinson Associates on 01943 666 955.