Skipton Town Hall celebration event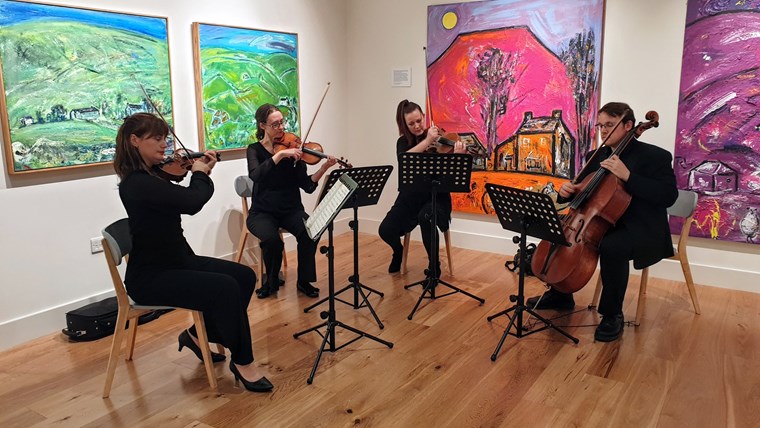 On Friday 19th of November an evening of thanks was held for everyone who has been involved in the redevelopment and refurbishment of Skipton Town Hall into a 21st century cultural resource for communities across Craven.
The Town Hall reopened in June when covid restrictions were still in place, therefore the event was postponed and organised to coincide with the original opening date of the venue in 1862.
Guests enjoyed a special performance of the Baht 'at Variations from poet Ian McMillan and the Town Hall orchestra in residence, Skipton Building Society Camerata. The piece was written by McMillan in collaboration with Camerata conductor Ben Crick.
Ian McMillan also performed a poem written especially for the event – 'Let's Hear it for Skipton Town Hall'. The poem reflects on the communities, past and present who have brought life to Skipton Town Hall and describes the venue as the 'beating heart' of the town.
Speeches were given by Deputy Leader of Craven District Council, Cllr Simon Myers, David Renwick of the National Lottery Heritage Fund and Trevor Mitchell of Historic England. 
Cllr Simon Myers said "It was an honour to thank everyone involved in the refurbishment and redevelopment of Skipton Town Hall whether it be funders, staff or volunteers. We now have a town hall that has been utterly transformed; from the newly imagined museum that tells the story of Craven, to the first class concert hall plus new exhibition space, education room and associated facilities. It has taken such a huge amount of work to secure the building's future and we now have a town hall fit for the 21st century to be used and accessed by everyone across Craven. Ian McMillan got it absolutely right when he described the building as the 'beating heart' of the town."

Guests were then invited to an open house showing of Craven Museum and the current gallery exhibition - A Yorkshire Vision by Kitty North.
Skipton Town Hall reopened on the 21st of June after a spectacular £4.7 million restoration and redevelopment project. Craven District Council invested £3million in the project, with £1.5million from the National Lottery Heritage Fund and £183,000 from the High Street Heritage Action Zone. A further £250,000 Arts Council Grant was given to support the upgrade of performance infrastructure in the Concert Hall.
(L-R: Trevor Mitchell, Cllr Myers, Ian McMillan, David Renwick and Danielle Daglan)

Skipton Town Hall is open from Monday to Saturday with free entry to Craven Museum, the Exhibition Gallery and Visitor Centre. There is a programme of events, performances and workshops happening throughout the year. There is also a gift shop which supports local independent makers and stocks environmentally sustainable products. Every purchase supports the Skipton Town Hall cultural hub and their outreach work across Craven.
Visit the Skipton Town Hall website at www.skiptontownhall.co.uk