Countdown begins to Craven's Community Champions Awards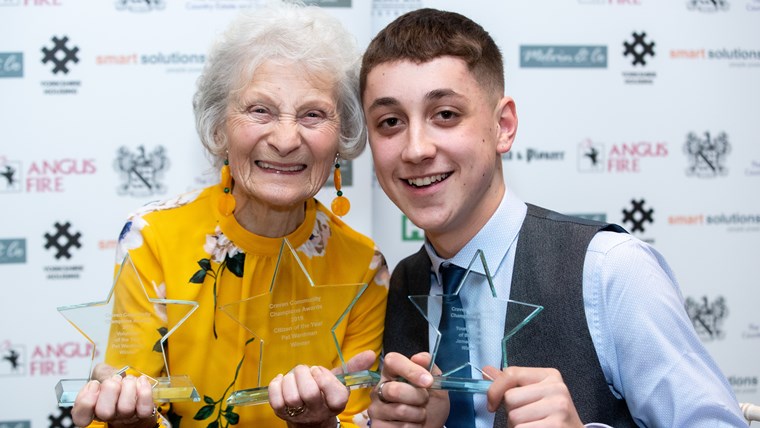 The winners of the 2019 Community Champions Awards James Sabin and Pat Wardman. Pat sadly died a few days after the ceremony. (Photo credit: Stephen Garnett)
Craven's highly anticipated Community Champions Awards return on Thursday (March 3rd) after an absence of two years celebrating and rewarding the area's unsung heroes.
The evening extravaganza – the tenth and possibly final year of the Craven Community Champions Awards, will be held at The Coniston Hotel Country Estate and Spa and the worthy winners will be crowned in front of a large and appreciative audience of judges, sponsors, shortlisted nominees and their accompanied special guests.
The awards, hosted by Craven District Council, highlight the incredible work being done by dedicated individuals and groups who make Craven a better place to live. The seven categories are - Arts and Culture, Greener Craven, Sport and Recreation, Health and Wellbeing, Best Community Group, Volunteer of the Year and Young Citizen of the Year.
Dozens of inspiring and heart-warming nominations were submitted and the short-listed nominees have been invited to the award ceremony on Thursday, where the winner for each category will be announced.
Speaking about the importance of recognising people who have gone above and beyond for their community, Craven District Council's chief executive, Mr Paul Shevlin, said: "We are delighted and proud to organise these awards, which highlight the incredible work being done by dedicated individuals and groups within our communities.
"We would like to thank our kind associate sponsors Yorkshire Housing, Alexander's Grand Café, Terrace and Bar, Keelham Farm Shop, Angus Fire, Smart Solutions Recruitment, Craven Herald, Melvin and Co, Coniston Hotel Country Estate and Spa and, of course, our judges who had the difficult task of choosing the winners from so many worthy nominations.
"We are really looking forward to seeing everyone and each winner is truly deserving of recognition for their achievements."
In addition to announcing the winners of the seven main categories at the Awards ceremony, a further award will be made as follows: Citizen of the Year Award sponsored by Yorkshire Housing. This award will be presented to an individual who has made an outstanding contribution to Craven during the past year. The winner of the Citizen of the Year is selected from the entries of all the other categories by the judges.