More charging points for Craven's electric vehicle owners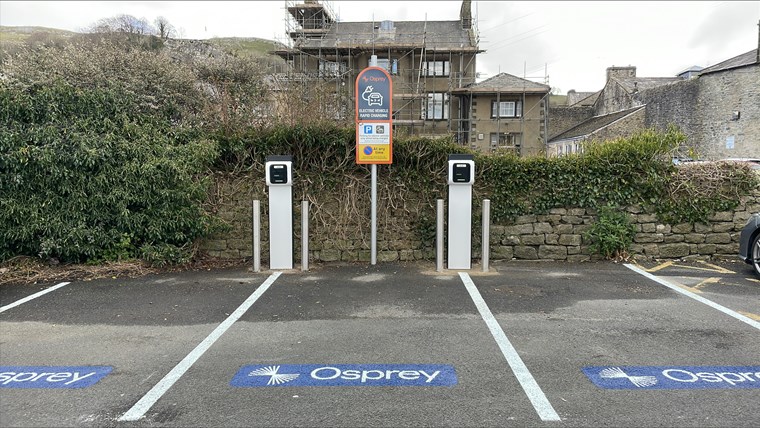 The charging points are located in bays adjacent to the Settle Social Club Car Park
Three fast electric vehicle charging bays have been installed in Ashfield Car Park, Settle, by Craven District Council's preferred supplier Osprey Charging Network.
The charging points are located in bays adjacent to the Settle Social Club Car Park and have a maximum stay of four hours. Parking charges do not apply whilst the vehicle is charging.
Following the successful pilot in High Street Car Park in Skipton, Ashfield Car Park and Coach Street Car Park in Skipton were identified to expand the network of electric vehicle charging points on Craven District Council car parks.
Keen to encourage greater use of electric vehicles, Paul Ellis, Craven District Council's Director of Services, said: "We are delighted to bring fast, reliable charging to the district and making it more accessible for residents who use them.
"Switching from a standard fuel vehicle to an electric one significantly reduces the carbon emissions of a journey and the new charging points in Settle align with our current climate plan and commitment to become carbon neutral by 2030."
Powered by 100% renewable energy, the 7kW chargers add around 30 miles of charge an hour, depending on the car and battery. They are compatible with all electric vehicles on the road, providing a total of four AC fast charging sockets serving three dedicated parking bays. Drivers need to bring their own cable to plug in.
To use the chargers, the Osprey Charging App or RFID card is needed. At all Osprey rapid chargers, such as in Skipton High Street car park, normal contactless bank cards are accepted and there is no need to set up an account.
Looking ahead, more rapid charging points are being installed on car parks in Grasmere Drive, Bentham, Milligans Field, Crosshills, North Street Gargrave, Community Centre Ingleton and Coach Street, Skipton. These are due to go live in May.