You are here:
Yorkshire artist Kitty North to exhibit at Skipton Town Hall
Yorkshire artist Kitty North to exhibit at Skipton Town Hall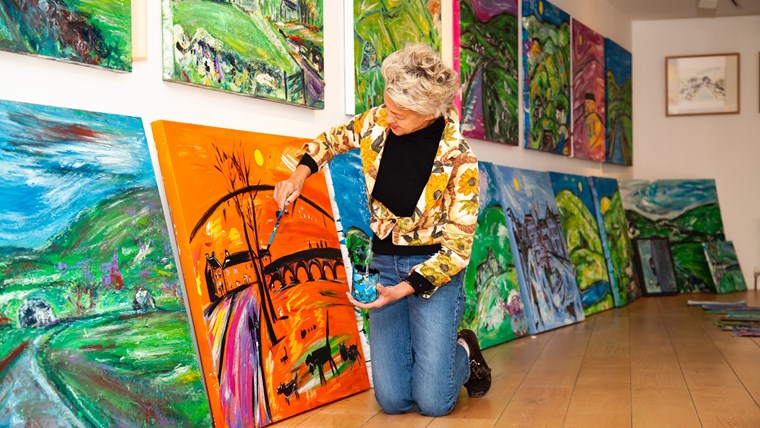 A vivid exhibition of colourful Yorkshire Dales landscapes painted during the coronavirus pandemic is set to be unveiled at Skipton Town Hall.
Kitty North, a painter of people and places, is to showcase work created during the lockdowns of 2020 and 2021 in the town hall's new exhibition space. A selection of earlier works will also be on display.
North, who is based at Arncliffe, deep in the Dales, was entirely absorbed in her art during these times.
Like many escaping from the isolation of the pandemic, she found hope and inspiration in the great outdoors and with sketchbook in hand, she documented the peace and beauty of the natural world and the creatures within it.
During that period she found herself appreciating the small things that sometimes go unnoticed, and spent much of her time recreating this in her art.
North, who has shown works at Salts Mill, Chatsworth House and Bolton Abbey, said she was fascinated by the landscape of the Yorkshire Dales.
"The projects I work on can often be in complete contrast," she said.
"From busy cityscapes, to painting in the beauty of the Yorkshire Dales - amongst animals, nature, landscape, the elements and of course the people.
"I love working outside, painting 'en plein air' (outdoors) can make you dizzy with the magic and mystery of the world."
Visitors to the exhibition will see North's use of bold colours to capture the diverse and wild landscape of the Yorkshire Dales, with scenes depicted across the seasons.
Skipton Town Hall's Cultural Services Manager, Danielle Daglan, commented: "We're really excited to have Kitty's work on display and to be showcasing such a talented artist local to Craven, in our new gallery space.
"'A Yorkshire Vision' is such an exciting exhibition, incorporating larger scale pieces with contemporary, diverse landscapes, many of which our visitors will recognise from our vibrant local area."
'Kitty North: A Yorkshire Vision' is available to view upstairs in the gallery at Skipton Town Hall, Monday to Saturday from 9.30am to 4.30pm, from 8th November until 23rd December. FREE ENTRY.