You are here:
Council appoints charity to inspire Craven residents to cut their carbon footprint
Council appoints charity to inspire Craven residents to cut their carbon footprint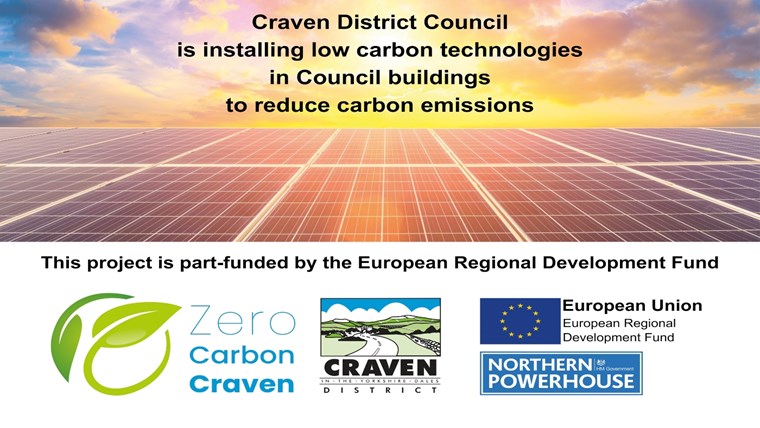 Craven District Council's Zero Carbon Craven project has been boosted by the appointment of an environmental charity with a strong track record of encouraging residents to cut their carbon footprint.
London based Hubbub, a charity that inspires ways of living that are good for the environment, is working alongside council officers to create a campaign to encourage residents to think about the steps they can take to reduce carbon emissions in their homes and help tackle climate change.
The £1.2m Zero Carbon Craven project – half of which is being funded by the European Regional Development Fund (ERDF) – will help the Council achieve its target of reducing carbon emissions to zero by 2030.  The ERDF funding is being used by the Council to retrofit low carbon technologies such as solar panels and insulation to their buildings and the campaign will build on this work to inspire Craven residents to do the same.
Hubbub, which won Charity of the Year at the Charity Time Awards 2020, was selected for the project after it achieved strong results with a BT Smarter Living Challenge campaign which encouraged residents to try out energy saving ideas as well as a successful sustainable behaviour campaign with Ikea.
Lead Member for the Environment, Cllr Carl Lis, said: "About 40% of the UK's carbon emissions come from households and with many people spending more time at home due to the pandemic, looking at ways to reduce carbon emissions within the home is more important than ever and there is the added advantage that this often means saving money on bills in the process. By the end of the campaign we are hoping there should also be a lasting legacy for community groups to pick up and promote within their own areas."
Gavin Ellis, Director and Co-Founder of Hubbub, commented: "We're excited to be working with Craven District Council to show local households and communities the simple steps they can take to reduce their carbon footprint. Our experience is that most people in the UK want to do something about climate change but are often unsure where to start. Through this project we'll break it down into simple steps that any household can follow, regardless of income or circumstance."