You are here:
Craven District Council takes next step to cutting Skipton Town Hall's carbon footprint
Craven District Council takes next step to cutting Skipton Town Hall's carbon footprint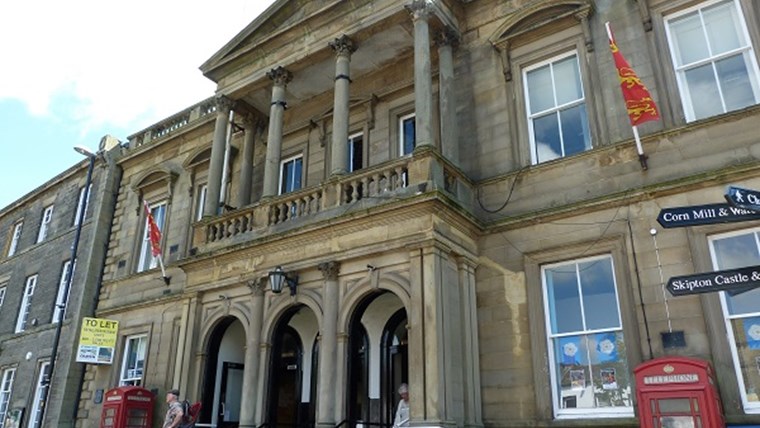 A significant step has been made in Craven District Council's ambition to cut its carbon emissions to zero by 2030.
Zero Carbon Craven is delivering a range of projects to retrofit carbon reduction technology to council buildings.
The Council's homeless hostel was the first property to benefit from solar panels and Craven Leisure is next in line to get the technology fitted.
The £1.2m scheme – 50% of which is funded by the European Regional Development Fund (ERDF) – will also include a campaign to inspire our residents to follow in our footsteps.
Another major step has now been achieved after the Council was granted listed building consent to install solar panels on the roof of the Grade 2 listed Skipton Town Hall.
Work to secure panels to the south facing concert hall roof is due to start in October.
This is part of a wider project which aims to use less energy through better insulation and control and then to install renewable energy sources.
The recent £4.7m redevelopment of the Town Hall has included other low carbon measures such as more efficient lighting, fans, insulation and smart controls. 
The solar panels will save carbon emissions equivalent to planting more than 270 trees.
Lead member for the Environment, Cllr Carl Lis, commented: "An enormous amount of work is taking place to make sure the ERDF funding is spent in the most effective way to maximise the carbon savings we can make.
"It's a challenging project due to the historic nature and age of the Town Hall and getting planning consent on a listed building is not something we take for granted.
"So I am very pleased to see that has now been achieved and we can proceed with our ambitious plans to reduce our carbon emissions."
CDC will be able to monitor and display the carbon emission reductions as it has installed an online system to monitor energy use (from heat and light) in its buildings. 
It means that staff managing the buildings can see where any high carbon emissions are coming from and find ways to reduce them.   
Future plans are to display daily carbon information at Craven Leisure, the Town Hall and the Council offices at Belle Vue Square so that visitors to the buildings can see how much is being used and saved.