Work draws to a close on first phase of multi-million pound town centre regeneration project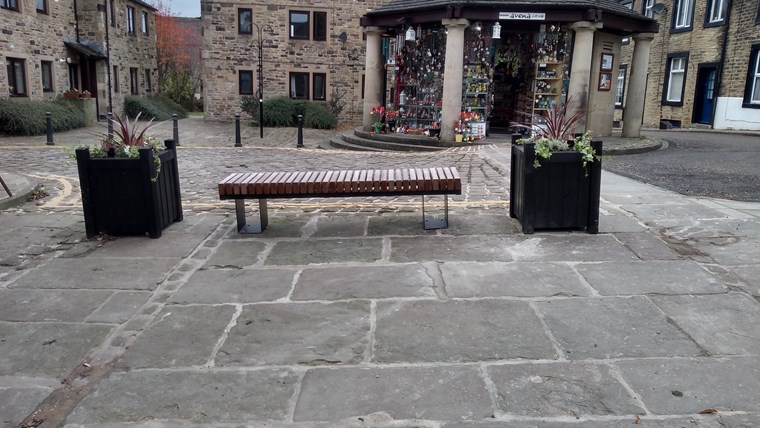 The first phase of an ambitious project to champion and revive Skipton's historic high streets is complete thanks to High Streets Heritage Action Zone (HSHAZ) funding.
In 2020 Craven District Council successfully secured over £1.5m. from the Government to fund a programme of capital projects and cultural events to create economic growth in the town, increase footfall and improve the quality of life in Skipton. One of the major aims of the programme, which is run by Historic England and will finish in March 2024, is to help people feel proud of where they live.
The impressive works so far has seen bollards replaced with attractive new planters in Victoria Square, created by artistic staff and students of Craven College; tired legs can now be rested courtesy of the new public seating, and the area is now more accessible due to the central yorkstone paved path along Victoria Street, dropped kerb in Victoria Square and the flat stone setts in the ginnel. 
On recounting the history of this vibrant area - once occupied by weaving workshops, draper, butcher, grocers, shoemaker, tripe shop, pawn shop and a rag and bone warehouse - Skipton Civic Society describe Victoria Square as "a little community in its own right". 
New cycle stands provide more town centre parking for cyclists and the heritage style lighting complements the historic setting whilst brightening up the ginnel to Sheep Street.
Hallam's Yard has also had a facelift, making it more accessible and welcoming.  Further proposed improvements include bin enclosures, the restoration of the Grade II listed moulded stone arch and repainting of the ginnel.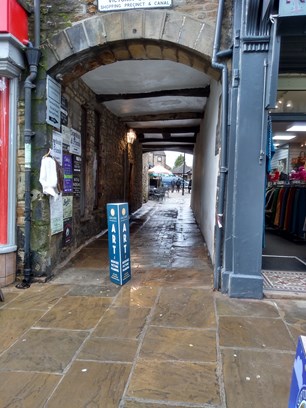 Delighted with the town centre improvements so far, Chairman of Craven District Council and lead member for Enterprising Craven, Cllr Simon Myers said: "It's been brilliant to see the enhancements made so far to our local high street. My family have been associated with Coach Street and Albert and Victoria Street since the 1880s. I grew up playing in our warehouse in Albert Street. I am delighted to see this most interesting and historic part of Skipton being recognised and improved for the benefit of residents and visitors. It is hoped that the improvements will have a positive impact on footfall, giving a boost to the independent businesses that make up the unique character of our historic sheep town. Craven District Council would like to thank the local business community and residents for their patience and cooperation whilst the work has been under way."
Giles Proctor from Historic England said: "We're really pleased to see these improvements funded through the Skipton High Streets Heritage Action Zone. They're helping to re-energise the historic town centre, increase local pride and provide a boost to local businesses."
Similar views were expressed by local businessman and Skipton BID Chairman, Andrew Mear, who said: "I'm very pleased the HSHAZ project has considered and improved the Victoria square area and its connections to coach street. The project has improved access for all and made the area far more pedestrian friendly, with new seating, cycle areas and cycle parking, plus new planters."
The project has also seen the revamp of an eyesore old "boiler house" on Skipton High Street, which has been given a new lease of life.
In addition, funding has enabled the purchase of new gazebos and a "Monday incentive" welcoming new traders to get a feel for "Market life" and receive advice and support from the market team – free of charge!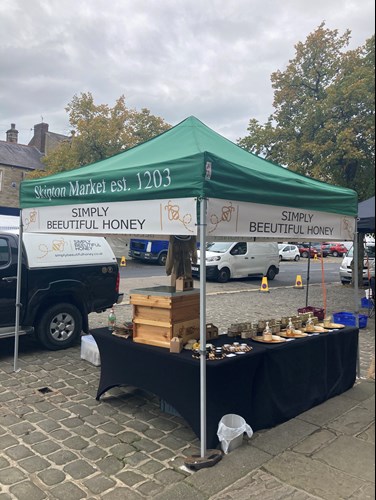 A spokesperson for Skipton Town Council added: "The whole project has made a huge difference to traders who have never experienced trading on a market before. It gives them the opportunity to trade without large start up costs and to establish a name for themselves on a busy market trading town. The 'Boiler House' renovations provide staff a clean, safe environment to store the gazebos and any associated market supplies, especially during winter with the dark mornings. We have installed a solar panel on the roof, which powers a battery to provide lighting so as well as a safe clean environment - we are environmentally aware without any high electricity costs." 
Looking ahead, still to complete is the installation of a fixed open gate at the ginnel entrance of Victoria Square, featuring the decorative shape of the 17th century gable-end datestone.  The gate will neatly display the names of the businesses located around Victoria Square, and the faded historic signs on the inner ginnel wall will be restored as a means of conserving the history of this well-used pedestrian link.
Meanwhile, the HSHAZ team continues to work with businesses and property owners in Skipton to explore opportunities for celebrating the town's heritage through the creative storytelling of local young artists and students. The Cultural Programme boasts a variety of colourful projects involving art, music, sound, theatre, photography and historic trails which are on track to be completed next year.