Skipton mural marks start of Community in Colour high street project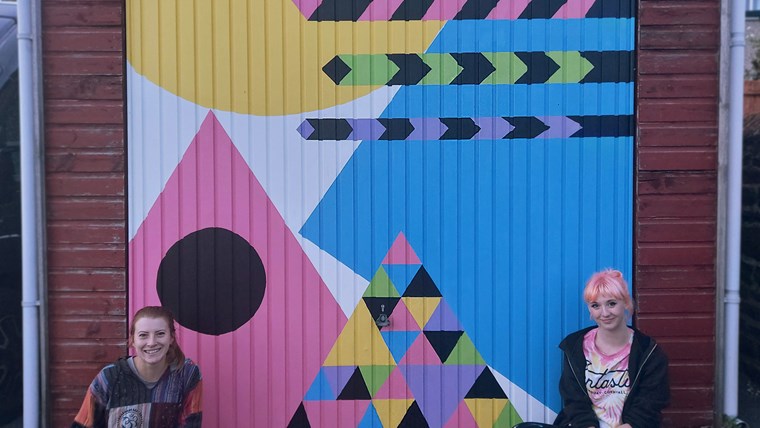 The first in a series of new public art murals across Skipton Town Centre has been unveiled by youth-led community group Fresh Perspective.
The new mural on the side of Craven Arts House at Otley Street marks the start of "Community in Colour" - a high street regeneration project which aims to bring the history of Skipton alive through art and colour.
At the end of 2020 Craven District Council was awarded £95,000 to deliver a cultural programme as part of the Skipton High Street Heritage Action Zone (HSHAZ). This is part of a £7.4 million national fund for cultural activities designed to engage communities with their high streets and celebrate the role and importance of these historic areas as hubs of the community.
Fresh Perspective is working with the HSHAZ team to install a series of murals to tell the story of the streets and buildings of Skipton. They also plan to make darker places like ginnels feel safer to walk through, especially at night.
Beth Sculpher  from Fresh Perspective, said: "I think this is a really great opportunity for Skipton to show off its history in a fun and engaging way whilst brightening dull areas and creating safer spaces for people to walk through.
"Working with Skipton HSHAZ allows us to preserve the history of the town and tell each building's story whilst also bringing public art to Skipton and showing other young creatives that it is possible to get yourself out there."
The High Streets Heritage Action Zone's Cultural Programme is part of the national £95 million High Streets Heritage Action Zone initiative, which is currently working across more than 60 English high streets.
It is funded by £40 million from the Department for Digital, Culture, Media and Sport's Heritage High Street Fund, £52 million from the Ministry of Housing, Communities and Local Government's Future High Streets Fund, and a further £3 million from the National Lottery Heritage Fund.
One of the major aims of the national programme is to help people feel proud of where they live.
Historic England is leading the Cultural Programme in partnership with Arts Council England and the National Lottery Heritage Fund.
Work on the other planned murals will begin mid-late October with plans to continue the project up to March 2024.
Fresh Perspective is looking for other young artists who are just starting out or still in school or college who would be interested in attending mural workshops delivered by professional public art artists, leading to paid work helping to install future murals. If you are interested and would like more information, please email beth@freshperspective.org.uk.
Community in Colour is one of several projects that make up the Skipton Cultural Programme. Local heritage and cultural groups have come together to create an exciting cultural programme which offers opportunities for the local community to engage in new ways with Skipton's rich heritage and support the main Skipton HSHAZ scheme. Skipton HSHAZ were awarded £95,360 from Historic England in February 2021 to deliver the Cultural Programme, which lasts until March 2024.
The programme includes a new Skipton trails app, a virtual reality app, Soundtrack to Skipton sound map, Craven Music Match and 'Watch This Space' where we will be developing a network of spaces in Skipton that will be available to support community groups deliver creative activities including evening events, clubs and performances. Future events will be published through social media including Skipton Town Hall website www.skiptontownhall.co.uk.
If you would like to get involved with the Skipton Cultural Programme or learn more please contact Debbie Cross on dcross@cravendc.gov.uk