Don't miss chance to help to shape North Yorkshire towns' gateways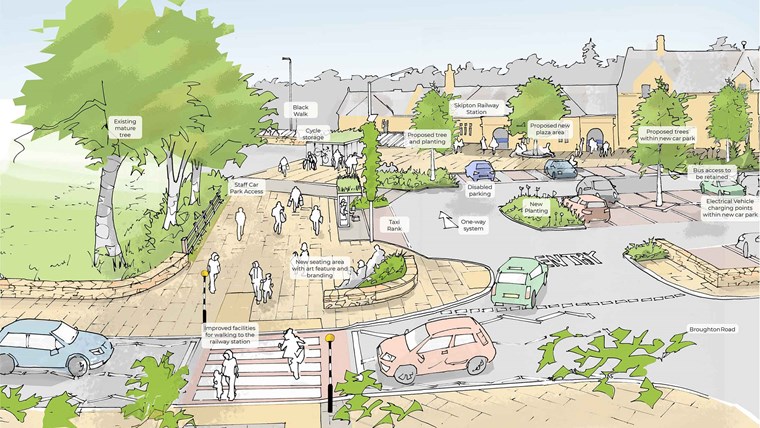 People living and working in the Selby, Skipton and Harrogate areas are reminded that they can help to shape the final look of major schemes to enhance the gateways to the three towns. 
Consultation ends soon on detailed designs for the schemes, which were amended following public feedback to an initial consultation earlier this year. 
The investment will transform each town's gateway by boosting public transport, encouraging sustainable travel and upgrading the public realm for residents and visitors. The projects, worth a total of £42m, are being delivered by the West Yorkshire Combined Authority, North Yorkshire County Council, Craven District Council, Harrogate Borough Council and Selby District Council. 
Cllr Susan Hinchcliffe, Chair of the West Yorkshire Combined Authority's Transport Committee, said: "We're delighted to be working with our local authority partners across North Yorkshire on these important schemes, which will make it easier to walk, cycle and use public transport, connecting more people to job, training and education opportunities." 
North Yorkshire County Councillor Don Mackenzie, Executive Member for Access, said: "We want as many people as possible to tell us how well these revised designs meet the objectives of opening up the towns' gateways to facilitate and encourage cycling and walking and improve the quality and sense of identity in these locations. Please take this opportunity to have a say in shaping the future look of your town." 
Selby District Councillor David Buckle, Lead Executive member for Communities and Economic Development, said: "This next phase in the project has seen the original plans changed following the comments and feedback we received from members of the public. We're now able to give much more detail about our vision for how this part of Selby can be transformed and this is a further opportunity for residents, commuters and businesses to look at the plans and let us know what they think." 
Councillor Phil Ireland, Harrogate Borough Council's cabinet member for carbon reduction and sustainability, said: "We want to ensure this multi-million pound Transforming Cities Fund project provides an exciting and attractive gateway to Harrogate town centre that encourages people to use sustainable travel options and helps us achieve our carbon reduction goals. Listening to residents' feedback provides valuable insight into achieving these aims and I'd like to thank those businesses, residents and visitors who have done so already. Now is the time to further share your comments so that we can focus our attention on the finer details of the scheme, and I'd urge everyone to get involved." 
The schemes are being funded from the Leeds City Region Transforming Cities Fund, which is helping to transform gateways to towns and cities across the region by making it easier to walk, cycle and use public transport.
A series of online events is taking place at which the public have been able to hear more about the proposals before completing the consultation survey. Recordings of events that have taken place are available on the web pages for each scheme at www.yourvoice.westyorks-ca.gov.uk/northyorkshire   
Two online events remain:
Wednesday, 3 November, 6pm to 7pm, for the Skipton scheme

Thursday, 4 November, 6pm to 7pm, for the Selby scheme
Details of how to join the events are on the web page above. 
The consultation will close on 12 November. 
Go to www.yourvoice.westyorks-ca.gov.uk/northyorkshire for detailed information of each scheme and to complete the survey for your town.  
Anyone who has difficulty accessing the information or needs a paper copy, translation or alternative format can contact North Yorkshire County Council on 01609 780780. 
Following this consultation, a final business case will be prepared before approval is sought to deliver the schemes. Work is expected to begin by mid-2022 and be completed by late 2023.