hief Executive of Craven District Council to leave after 15 years of dedicated public service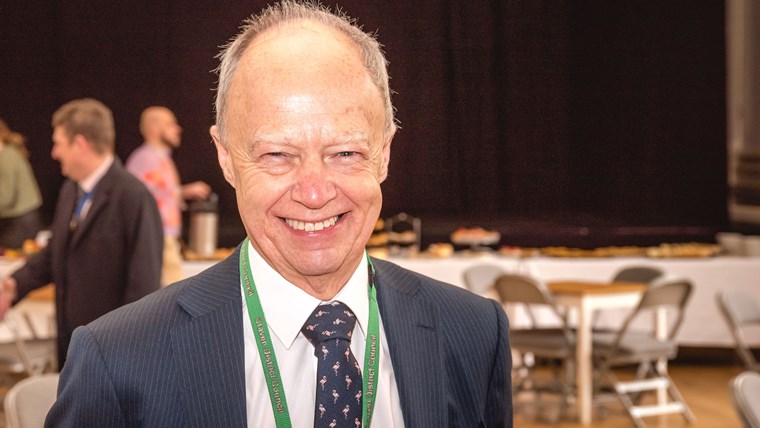 The Chief Executive of Craven District Council, Paul Shevlin
The Chief Executive of Craven District Council, Paul Shevlin, is to leave at the end of the month after 15 years of "tremendous" public service.
And the 68-year-old most likely has the best sickness record in the history of CDC – with not a single day off sick in 15 years!
Paul, who has worked an impressive 50 years in Local Government, joined the authority on December 1st, 2008. On arrival, he made tough and unpopular political decisions to restore financial stability to a council which was facing pressures, turning around the economic state and quickly steering it to financial success.
With his passion to truly make a difference, Paul, along with his dedicated council staff and elected members, has worked tirelessly over the years for the benefit of the Craven communities.
He said: "This year marks my 49th year in local government and now feels like the right time to bow out. What attracted me most to Craven was the beauty of the Yorkshire Dales and a major challenge. The council had some financial problems, and it was the challenge of trying to help in resolving those problems which was the deciding factor of taking the job. On joining, I was repeatedly told that I won't be here long. There were a lot of personal challenges too, but over time, everything fell into place."
Paul, who has played a key role in the District Council Network representing North Yorkshire districts, was born in the market town of Ashton-under-Lyne. He was educated at the De La Salle Grammar School in Salford, before attending the University of Salford where he undertook a BSc honours degree in Environmental Services. His first job was in 1973 - a trainee Environmental Health Officer at Ashton, which became Tameside Council on April 1st, 1974. Prior to joining CDC, he was Chief Executive of Oswestry Borough Council for 8 years.
There are many achievements that have given Paul immense pride during his tenure at CDC. These include the multi-million refurbishment of Skipton Town Hall; building shared ownership housing; the revamp of Aireville Park including the replacement of the town's skatepark and play area and the introduction of a pump track; the opening of Langcliffe Quarry Enterprise Centre; the redevelopment of Engine Shed Lane waste depot; the launch of the council's ambitious climate strategy and retrofit project; the refurbishment of Aireview House; Engine Shed Lane and Ings Lane Highway improvement scheme and Craven District Council's move from Granville Street to state-of-the-art new offices in Belle Vue Square,  however, one thing has been key - a strong theme of partnership working and building stronger bonds with key local partners.
He added: "It's been an honour and a privilege to be the Council's Chief Executive and serve Craven communities for the past 15 years, plus work with such dedicated colleagues. I am also grateful to have worked with fantastic, elected members, in particular the leader of the Council Cllr Richard Foster and Chairman, Cllr Simon Myers.
"I'm immensely proud of the council's achievements for the people of the district, despite wider economic challenges, budget constraints and a Covid pandemic. I'm particularly proud of the way we all worked together and alongside our communities through the unprecedented challenges of the Covid pandemic. It's been humbling and impressive to witness how my colleagues rose to the challenge, demonstrating incredible strength, compassion and determination to serve the people of Craven when they needed it the most."
Wishing Paul a fond farewell, the leader of Craven District Council, Cllr Richard Foster, said: "We have been lucky to have Paul in Craven. Whilst not often front and centre he has been the driving force behind the Council as we have moved from a Council that was in financial trouble to one with balanced books that has been delivering major projects and investing in Craven, whilst continuing to deliver services.
"He quickly understood that Craven didn't need wholesale change and that he needed to enable myself, members, staff and our excellent communities. This was most evident during the pandemic as he guided the area through an ever-changing picture with the minimum of fuss. 
"I hope he enjoys his retirement and looks back on his career in Craven as fondly as I do."
Similar sentiments were expressed by Chairman of Craven District Council, Cllr Simon Myers, who said: "I want to take this opportunity to thank Paul for leading the council through the past 15 years am. I'm proud to say we have achieved so much and we the Council and the people of Craven owe him a great debt. At the heart of everything he has done has been the welfare of Craven and its residents. His leadership and tireless commitment has helped positively transform the council and a lot of key projects have reached fruition.  As a leader he has always acted with integrity and transparency and has commanded respect from his staff, councillors, partners and the public. On a personal note I have always enjoyed working with him. I will miss him. It will be sad to see him go and I wish him all the very best for the future."
In closing, father-of-three Paul, who is an avid Manchester United supporter, said: "I have really been struck by a phrase I came across recently: 'If you're not making someone else's life better, then you're wasting your time. Your life will become better by making other lives better'. "I try to live by the mantra of always helping others. It has been an immense source of pride to serve the wonderful people of Craven over the past 15 years. I am hopeful that the new North Yorkshire Council will continue Craven District Council's legacy and do what's best for the people of the rural district.
"I don't know what is next for me; I don't even have a retirement plan, but one thing's for sure - I won't be putting my feet up just yet! Over and out."