INSPIRING AWARDS NIGHT CELEBRATES CRAVEN'S COMMUNITY CHAMPIONS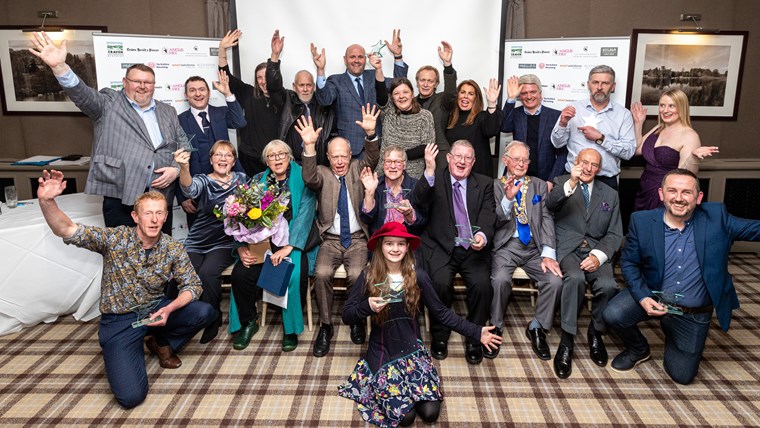 Proud Craven Community Champions who went above and beyond for their communities
Community spirit was truly alive and well yesterday evening (Thursday) as dedicated volunteers who make a positive difference to the lives of other people gathered to receive the recognition they deserve.
From fundraising teenagers to inspirational teachers, unsung heroes attended the glittering Craven Community Champions Awards ceremony at The Coniston Hotel Country Estate and Spa where they were crowned winners in front of a large and appreciative audience.
Hosted by Craven District Council, the evening extravaganza – the tenth and possibly final year of the community champions event – returned after a two-year absence due to the Covid-19 pandemic.
The highly anticipated ceremony highlighted the incredible work being done by dedicated individuals and groups who make Craven a better place to live. The seven categories were - Arts and Culture, Greener Craven, Sport and Recreation, Health and Wellbeing, Best Community Group, Volunteer of the Year and Young Citizen of the Year.
Craven District Council's Chief Executive, Mr Paul Shevlin, began by paying tribute to the selfless acts and rewarding work of "heroes" across the district. He said: "I've been highly impressed by all the individuals and groups who have been nominated for the Craven Community Champions Awards. We began this awards ceremony in 2012 and year-on-year we've heard inspirational, fantastic and new stories of people going above and beyond contributing to their society and communities. We are extremely proud to host the awards. Congratulations to the nominees and the winners tonight.
He expressed his gratitude to sponsors for the awards – without whom – the "ceremony would not be possible".
"A big thank you to Yorkshire Housing, Alexander's Grand Café, Terrace and Bar, Keelham Farm Shop, Angus Fire, Smart Solutions Recruitment, Craven Herald, Melvin and Co, Coniston Hotel Country Estate and Spa and, of course, our judges – Cllr. Alan Sutcliffe, Cllr. David Ireton, Jon Stokoe and Andy Ryland who had the difficult task of choosing the winners from so many worthy nominations.
WINNERS:
The Citizen of the Year Award was won by Vera Walker. Vera has given her time and expertise to supporting swimming in Settle for almost 48 years. She helped raise funds for the pool to be built and then for its upkeep. Over the years she has taught thousands of people to swim, set up and rang the first swimming club, the Age UK Swimming Group and the Disabled Swimming Group.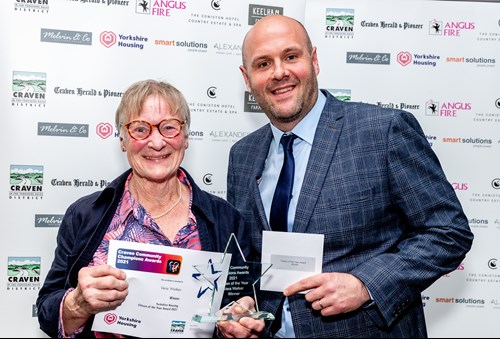 It was double celebrations for Ingleton and District Covid-19 volunteers who not only scooped the Best Community Group Award but were also crowned winners in the Health and Wellbeing category. From the first lockdown, Ingleborough Community Centre mobilised over 70 volunteers to support local residents who were unable to leave their homes due to being vulnerable. From March 2021, volunteers supported the vaccine clinic run at the Community Centre.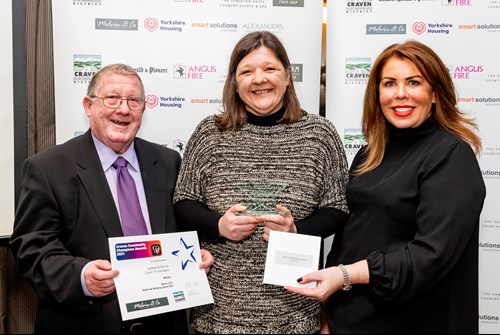 Speaking of the volunteers' delight at winning two awards, Jayne Lis, said: "We are absolutely delighted. This is a tribute to the many volunteers who came forward to get this initiative off the ground. There were over 100 volunteers in total that supported people during lockdown and then went onto man the vaccination centre. It's been one of the most rewarding experienced of my life certainly."
Inspirational Chris Kemp, of the All Together Now Community Choir, scooped the Arts and Culture Award. Chris created ATN IN 2019 to be an all inclusive choir with the community at its heart. He has made an outstanding contribution to the local community through his work with the choir and his charitable trust, despite having to work with the unforeseen challenges presented by the Covid-19 pandemic.
He said: "I am absolutely thrilled and humbled to win this award. The other two people in the category deserved this just as much I did, but obviously I am overwhelmed."
The Greener Craven Award was won by Paul Whitaker, of Wild About Lothersdale. Within four years of starting WAL, Paul has galvanised local enthusiasm for wildlife, writing monthly articles, creating wildflower meadows, helping to plant 5,000 trees, securing project funding, idea-swapping with like-minded organisations and organising volunteer events.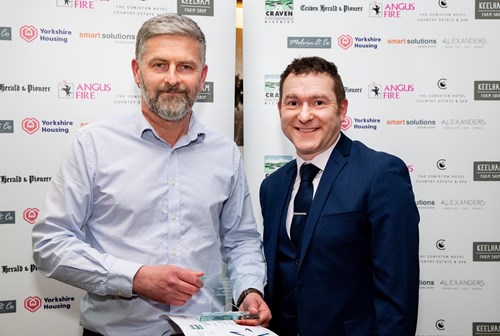 Another winner last night was Mr Ian Magee, of Greatwood School. Mr Magee is the Outdoor Education leader at Greatwood Primary School, providing pupils with skills and activities that they would not get to experience elsewhere. This includes fell walking, rope skills, den building, climbing, geocaching, dry stone walling, map reading, fishing and more.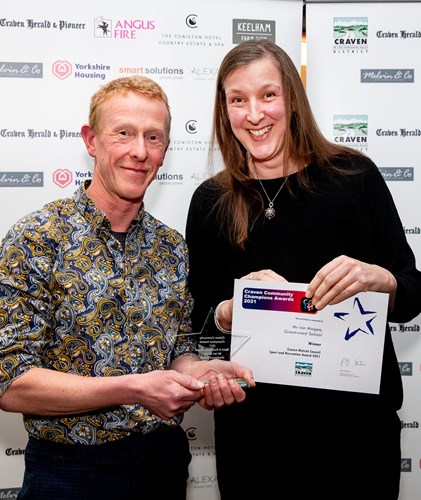 Meanwhile, the Volunteer of the Year Award was won by Pauline Wright, who gives her time to support many local groups and activities. She has set up a community pantry, started groups for young parents, babies and children, decorated the village and sung from her doorstep on VE Day, runs the Welcome Mat friendship group and always finds time to help others.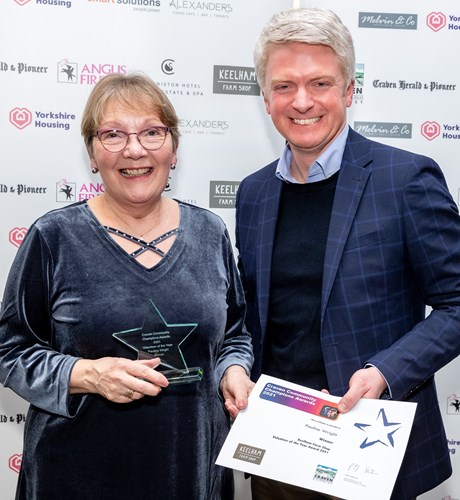 An inspirational teenager scooped the Young Citizen of the Year Award. Matilda Walden (13) has raised £4,435 for SELFA and raised awareness of the great work that the charity does with vulnerable children by completing a world record for fastest attempt at assembling a Mr Potato Head (5.69 seconds). She gained sponsorship from local businesses which raised SELFA's profile and generated a lot of community spirit. She also volunteers for Yorkshire Dales Millenium Trust.