You are here:
Residents in Craven urged to avoid using black bags in blue recycling bins
Residents in Craven urged to avoid using black bags in blue recycling bins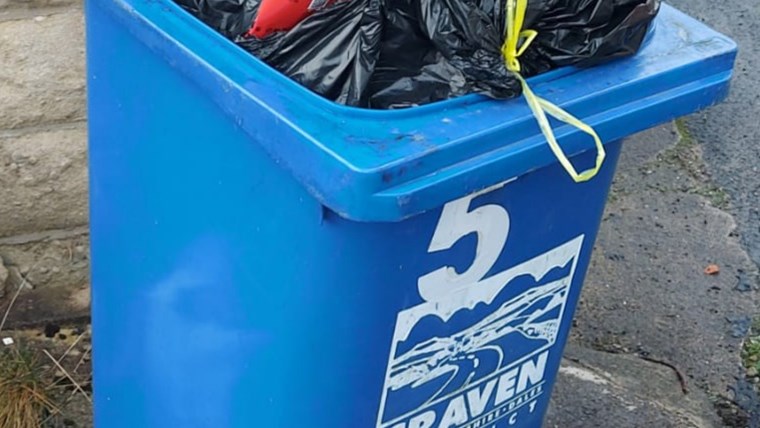 Waste crews are finding more and more black bags in blue recycling bins
Craven residents are being reminded not to place recyclable items in black bags before putting them into their recycling bins.
The Council is working to improve the quality of the recycling collected and to ensure that non-recyclable items are not placed in recycling bins. However, crews have recently noticed an increase of black bagged waste in the blue bins.
Paul Ellis, Craven District Council's Director of Services, said: "All your recyclable items – tins/cans, paper, cardboard, plastic bottles, glass, etc must not be bagged, unless in clear sacks provided by the Council. This is extremely important because if recycling is dirty or in a black bag, it can contaminate a whole lorry full of collections, which means none of it can be recycled. Blue bins will not be collected where they contain black bags.
He added: "Any large cardboard boxes must be flat-packed and placed in the blue bin If you need to dispose of cardboard boxes larger than 4ft x 2ft, they will also need to be broken down otherwise they will get rejected. Wet/soaked cardboard is considered a contaminant, therefore, cardboard should not be left outside of a bin for collection. Any wet cardboard needs to be placed in the green bin. Polystyrene is another major problem – we cannot recycle this so it needs to be placed in the green bin, as well as any textile items.
"By ensuring you are recycling properly you are helping to create a more sustainable environment for everyone in the district."
Meanwhile, the public is also warned about the dangers of disposing of electric cigarettes, vapes and other battery-operated appliances in their household waste bins, which could lead to fires. Instead, people are asked to take them to their local household waste recycling centre for safe disposal.
Paul Ellis went on to say: "Fires that involve batteries can prove very challenging and difficult to extinguish and have a detrimental effect on the environment. I would remind people to dispose of battery-powered appliances responsibly, and not amongst your general household waste or recycling."
You can find out about what you can and cannot recycle by clicking here: https://www.cravendc.gov.uk/waste-recycling/blue-bin-recycling/