Dedicated councillor is elected as last ever chairman of Craven District Council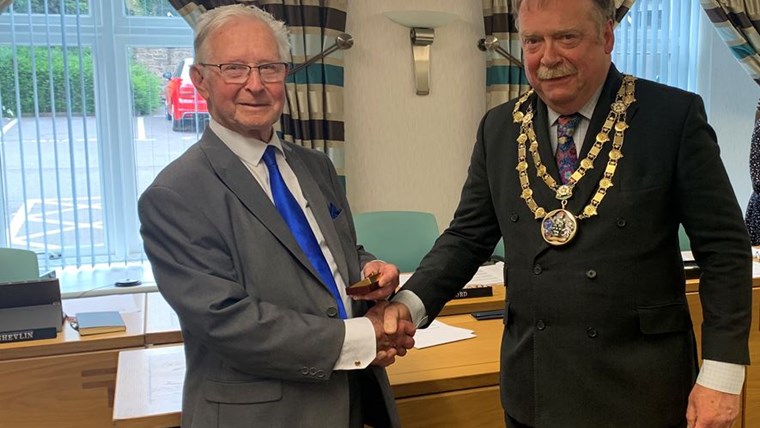 Cllr Alan Sutcliffe (left) with new Chairman Cllr Simon Myers
Councillor Simon Myers has been elected as the last-ever chairman of Craven District Council until March 31st, 2023, when the Council comes to an end and the new Council for North Yorkshire begins.
He has taken over from Councillor Alan Sutcliffe.
Cllr Myers, a ward member for Gargrave and Malhamdale, was unanimously elected as chairman at the Annual Council Meeting on Tuesday, May 24th. His consort for the year will be his sister, Alison Beesley.
An antiques dealer and former criminal barrister, Conservative Cllr Myers, said he was "honoured" to be accepting the role and will do his "best" to serve the residents of Craven. He said: "It's a bitter-sweet moment to become the last Chairman of Craven District Council. We are all fond of this council.
"I look forward to my year of office. I think particularly this year when there are so many poignant things happening – the war on Ukraine, the war against democracy by a dictator trying to surpass people's freedom. And then the very clear reminder of an exemplary life of service that will be marked by the celebrations of the Queen's Jubilee in June. Local democracy is a very ancient guardian of our freedoms in this country and should never be undervalued."
He added: "This year it's about our communities and it's about the service that so many have given. In this last year, it will be the last opportunity we have as a district to honour all the good people of Craven. So, it's a very mixed emotion for all of us to face the last year of this council. I will do my best for you and for the residents of Craven."
Handing over the chains, the outgoing chairman Cllr Sutcliffe expressed his best wishes to Cllr Myers and thanked everyone for their support during the past 12 months, especially his consort, Marcia Firth.
Councillor Chris Rose, who represents the Skipton West Ward, was unanimously elected as vice-chairman.
The leader of Craven District Council, Cllr Richard Foster, who proposed Cllr Rose, congratulated the new chairman and vice-chair on their appointment.
Refreshments were served after the proceedings.
Cllr Myers joined Craven District Council in 2011. Brought up in Skipton, he attended Ampleforth College before reading English at Bristol University and completing a conversation course in law. He went onto work in chambers in London for 12 years before returning to practise in Leeds and Bradford.
Earlier this month Cllr Myers was also elected to represent the Mid Craven division on the new North Yorkshire Council. He has become executive member for growth, culture, leisure, sport and housing.
His chosen charity for the next 11 months is the Two Ridings Community Foundation – an independent charity that helps ordinary people do extraordinary things that make our communities stronger, improving the lives of all who live there.