You are here:
Carbon reduction works at the crematorium and Skipton Town Hall now complete
Carbon reduction works at the crematorium and Skipton Town Hall is now complete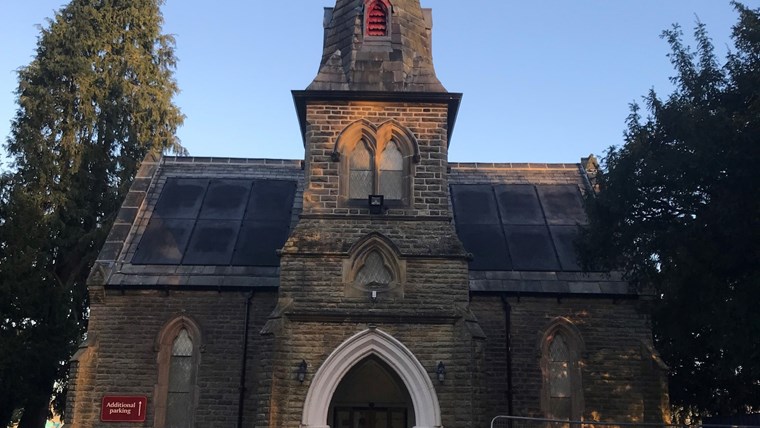 The Remembrance Chapel
A project to insulate the Remembrance Chapel at Skipton Crematorium as well as the Town Hall is now complete. 
The Remembrance chapel roof has been replaced and the new roof integrates solar panels and insulation. A large number of the roof slates have been carefully re-used. While work was carried out, Craven District Council ensured disruption to people was kept to an absolute minimum. The Remembrance chapel remained open throughout and the contractor was careful not to carry out noisy work during services.
The scaffolding has now been removed and the Remembrance Chapel is fully accessible as it was before the works. 
The Town Hall now boasts a large array of solar panels and sheep's wool insulation in the roof of the concert hall. The insulation and solar panel works at both the Town hall and Crematorium are expected to save carbon every year equivalent to planting 60 large trees.
The works are part of "Zero Carbon Craven" - a £1.2m project 50% funded by the European Regional Development Fund to retrofit Craven council's buildings to reduce carbon emissions. It will also give savings in yearly running costs, and future proof against increases in electricity and gas costs.
Speaking about the project, Councillor Carl Lis, Craven District Council's Lead member for Greener Craven, said: "The contractors at the Remembrance Chapel worked hard to make sure that there was no disruption to services and very minimal disruption to the use of the chapel."
As well as the works at Town Hall and Crematorium, a large installation of solar panels has also been fitted on the roof at Craven Leisure and further works are planned, including the installation of large heat pumps at Craven Leisure and other Council buildings as part of the project.