Craven Council Chairman takes the plunge for charity swim challenge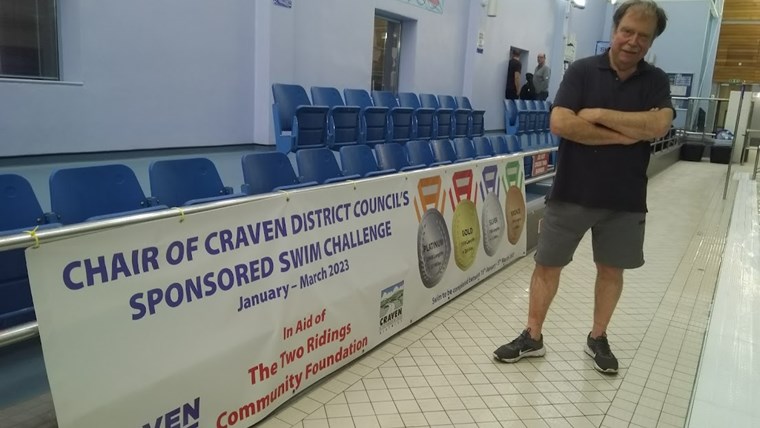 Chairman of Craven District Council Cllr Simon Myers ready to go to great lengths to raise money for a worthy cause
Craven District Council's Chairman, Cllr Simon Myers, is set to make a splash for a deserving charity as he launches the annual swim challenge.
The 2023 fundraiser, to be held at Craven Leisure, will run from Monday, January 16th until Sunday, March 5th, with various distances to inspire all swimmers.
Swimmers of all abilities can choose from bronze, silver, gold or platinum awards, with all distances to be completed by March 5th. This year Cllr Myers has chosen to support Two Ridings Community Foundation – a charity which helps people and organisations fund causes that matter, strengthening our region's communities and improving people's lives. The challenge is particularly going to focus on raising funds for Craven residents who are struggling due to soaring food and energy prices.  
Speaking about the challenge, Cllr Myers said: "The cost of living crisis is leading to more people relying on charity support to survive. However, so many charities have struggled through the pandemic with a loss of fundraising opportunities. I'm really pleased to be able to do something which I hope will raise as much as possible to support the work of Two Ridings who are going to great lengths to help needy people during the current cost of living crisis.
"I would encourage kind-hearted members of the Craven community to take part in this fun initiative for a deserving cause and for those who can't, to dig deep. The swim is open to everyone of all ages and all abilities."
A spokesman for Two Ridings added: "We really appreciate that Cllr Myers has chosen Two Ridings Cost of Living Crisis Fund as his Chair's Charity. Every penny raised will be used to support local people in the Craven district and the local charities that do so much to support people especially right now.  Our Crisis Fund has been set up to give people an opportunity to donate whatever they can afford to support other people struggling because of rising costs of energy bills, fuel, food and other daily living costs. We accept any donations to the fund, including people passing on some or all of their Council Tax rebate or Winter fuel allowance. All money donated to the fund will be distributed as grants to charitable partner organisations with a proven track record who will pass this on to people in the Craven district in the best way to help and support them at this time of crisis."
Anyone wishing to take part is asked to collect a sponsorship form from the reception desk at Craven Leisure. For those who are unable to take part, but wish to support the fundraiser, they can leave donations with staff at Craven Leisure.