Skipton Rotary Young Photographer exhibition goes on display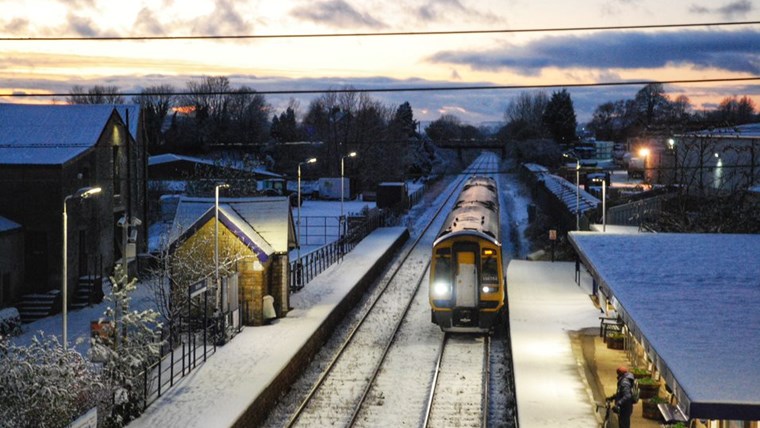 Above: Bentham Station in the snow, on show in the exhibition.
The photography of over 70 entrants to the Skipton Rotary Young Photographer Competition, is now on display in a colourful new exhibition at Skipton Town Hall.
Young people aged 3 to 17 from schools and community organisations across Craven took part in the contest, responding to this year's exciting theme of 'Colours of Nature'.
The Rotary International Young Photographer Competition takes place in Great Britain and Ireland every year. It aims to encourage young people to experiment with photography, develop creative skills, interpret the topic and respond to their surroundings through the medium of photography. 
Alongside the young people's photography work, visitors will be able to see a selection of work by the competition judge, Juliet Klottrup. Klottrup is an award winning artist combining photography and filmmaking, based in North Yorkshire. Her work explores themes of youth, community, rural living and the relationship we have with our landscape.
Cultural Services Manager Danielle Daglan commented:
"The submissions to 'Colours of Nature' have been fantastic. We have enjoyed working with Skipton Rotary to bring this exhibition to the Gallery at the Town Hall. We are really happy to have such an exciting group of young photographers from Craven on display, to share with our visitors".
Nicky Shoesmith, Vice President Skipton Rotary Club continued:  "The Skipton Rotary Youth Team have enjoyed running this competition and we think the exhibition really celebrates the wealth of young talent in Craven, and the vibrant nature we have in our area".
Danielle Daglan concluded "We've had some lovely feedback from the young people who have taken part saying the competition has encouraged them to go out for walks, look carefully at nature and think about the pictures they take."
Entrant's work and winners from each age category will be on display until 5th March 2022, upstairs in the gallery at Skipton Town Hall, Monday to Saturday from 9.30am to 4.30pm. Entry to the exhibition is free.