You are here:
Tour de Yorkshire set to zoom through Craven on April 30, 2017
Tour de Yorkshire set to zoom through Craven on April 30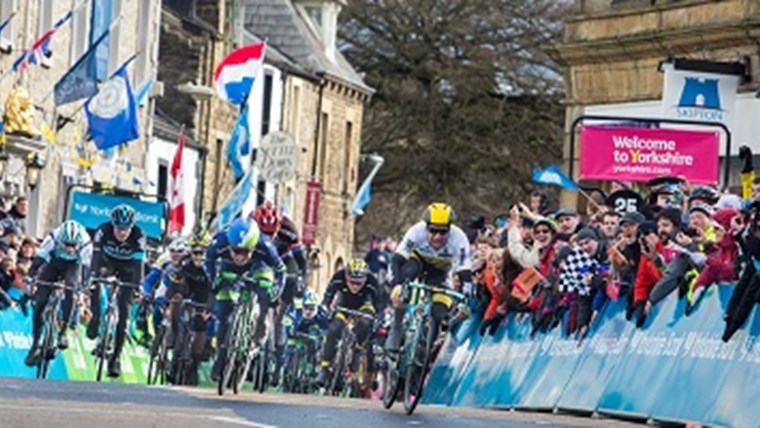 Craven residents are reminded to watch out for the Tour de Yorkshire cycle race as it comes through the district on Sunday April 30.
Stage Three of the 2017 race will travel through Bolton Abbey, Barden, Burnsall, Linton, Cracoe, Rylstone, down Skipton High Street, and on to Farnhill and Silsden before heading off through Haworth and Leeming, into South Yorkshire and finishing in Fox Valley, Sheffield.
A rolling road closure will be in place and motorists are advised to be aware that there may be some delays on the route. The rolling road closures are likely to last no more than an hour.
Spectating is free along the route but spectators are advised to watch responsibly and be aware that the cyclists travel at high speeds.
The stage has been named 'The Yorkshire Terrier' as this will be the toughest stage in the history of the Tour de Yorkshire, covering 194.5km with eight categorised climbs.
The Tour de Yorkshire Publicity Caravan will proceed along the race route ahead of the riders and this is due in Addingham at 10.41am and Skipton at 11.43am.
The riders will leave Bradford's City Park at 12:10pm and take a scenic trip to the Dales. They will come through Bolton Abbey just after 1pm, then travel through Barden and Burnsall before arriving in Cracoe at around 1.30pm. They will be due through Skipton at around 1.38pm, and will then proceed along the A629 to Farnhill and Kildwick.
The riders will continue back along the Aire Valley for the first of eight climbs on the Côte de Silsden at 14:04pm. The Côtes de Haworth and Leeming then follow in quick succession at 14:22pm and 14:32pm respectively before the peloton reaches the Côte de Shibden Wall. This cobbled beast will be crested at 14:54pm before an intermediate sprint takes place in Clifton at 15:09pm.
There's no respite as the race passes into South Yorkshire, and the final sprint points are up for grabs in Stocksbridge at 16:47pm before the weary riders tackle a gruelling 22km concluding loop featuring no less than four categorised climbs. The Côte de Deepcar is first up at 16:52pm and the Côtes de Wigtwizzle (16:58pm) and Ewden Height (17:01) come one after the other before one last drag up the Côte de Midhopestones at 17:07pm. Anyone left in contention after that will duke it out for the stage and overall victory in Fox Valley at 17:15pm.