Tour de Yorkshire is coming to Craven on May 6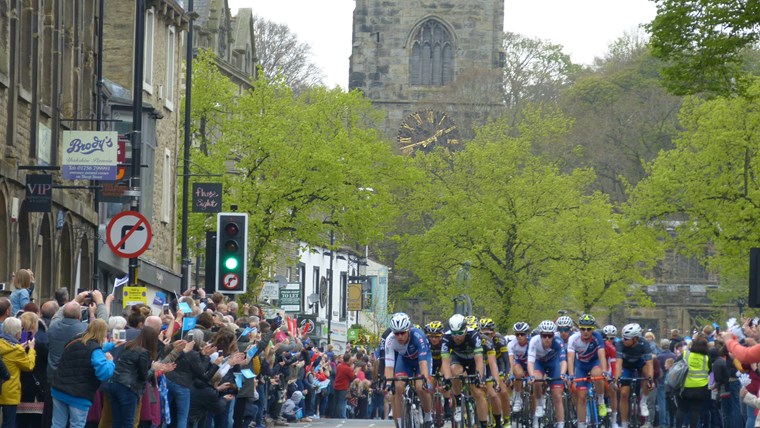 The thrilling Tour de Yorkshire cycle race will be speeding through Craven on May 6, with thousands of spectators expected to line the route.
The race, due to feature Olympic cyclist Mark Cavendish, will pass through Sutton-in-Craven and Cross Hills, and then up Skipton High Street at around 1.21pm.
The cyclists will then pass through Embsay, Eastby, Barden, Burnsall, Threshfield, Kilnsey and Kettlewell, and up Cote de Park Rash into Richmondshire.
Residents and visitors are advised that there will be a number of rolling road closures and some delays on the roads should be expected. Parking on Skipton High Street will be suspended from 10am on Sunday until the race passes through, and parking restrictions will also be in place across the length of the race route.
The race "caravan" will pass through the route before the race, and will stop at a number of places to hand out promotional goodies to fans, including at 11.02am in Cross Hills and 11.30am in Skipton High Street.
After the race has gone through Skipton High Street, at around 2pm, there will be a screening of the film "The Flying Scotsman" at Skipton Town Hall, telling the remarkable true story of Scottish cyclist Graeme Obree. Tickets cost £5 for adults and £3 for under-18s.
Sharon Hudson, Communications and Partnerships Manager at Craven District Council, said: "We're very excited about the Tour de Yorkshire and we expect large crowds of people will want to come and watch this thrilling race.
"We know many people will be in Skipton for the Waterway Festival too and we would advise visitors and residents to be aware of the road closures and parking restrictions. We would encourage spectators to walk or cycle instead of driving to locations on the route, and to behave responsibly so that everyone can enjoy themselves safely."
Rolling road closures will be in place along the whole route for approximately half an hour before the race travels through, to approximately half an hour afterwards.
There will also be an extended road closure on the section from Cote de Park Rash through to Horsehouse. This section will be closed from 10.30am to 4.30pm, with access for residents only between 10.30am and 1pm.
Full details of the road closures in Craven are available at www.cravendc.gov.uk/tdy2018  
Stage 4 of the race, on May 6, covers 117.7 miles, from Halifax to Leeds, and starts at the Piece Hall in Halifax at 12:10pm. The first of six categorised climbs comes on the Côte de Hebden Bridge at 12:45pm.
The race will head up the cobbled Main Street in Haworth at 12:56pm before dropping into Goose Eye for the next punishing ascent at 1.07pm.
Crossing from Brontë Country into Craven, the route heads through Skipton at 1.21pm and the next climb is looming on Barden Moor at 1.35pm.
The action will then head into the Dales before the riders contest the first intermediate sprint in view of Kilnsey Crag at 2.03pm.
The Côte de Park Rash will no-doubt cement its place in Tour de Yorkshire folklore as the peloton grind their way up it at 2.18pm, and the route continues on to Masham (15:10) and then into Nidderdale before making a return to the formidable Côte de Greenhow Hill for the first time since 2016 at 3.52pm.
The undulating terrain never relents and shortly after passing through Otley at 4.27pm the next categorised climb is on the cards at Otley Chevin (4.33pm). The race will pass Kirkstall Abbey at 4.49pm before the riders sweep into Leeds for a rip-roaring conclusion on The Headrow at 5.11pm - on the same spot as where the Tour de France started in 2014.
Timings have been calculated by anticipating the peloton's average speed but are subject to change depending on variables such as wind speed, direction and how aggressively the riders race.
The full schedule and race timings can be viewed online at http://letouryorkshire.com/timings
Full details on the route can be found at http://letouryorkshire.com