You are here:
Hundreds of athletes complete the Skipton Triathlon challenge
Hundreds of athletes complete the Skipton Triathlon challenge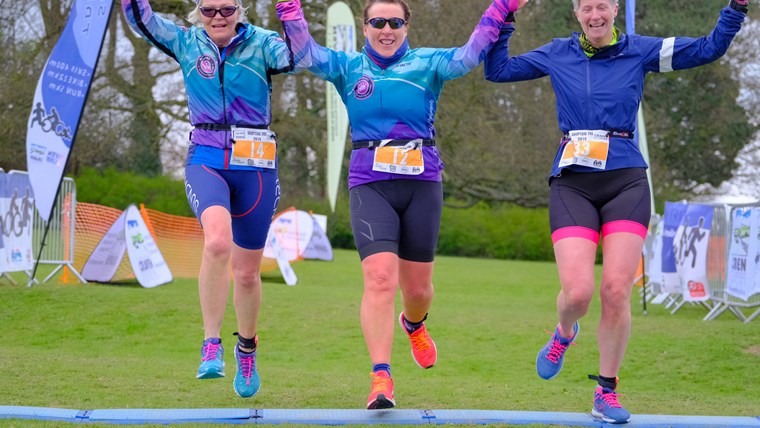 Hundreds of competitors braved the cold weather to complete Skipton Triathlon in Aireville Park on Sunday, April 14.
More than 550 athletes were cheered on by crowds as they took part in in a 400m swim in the Craven Leisure pool, followed by a 22km bike ride out through East and West Marton and Thornton-in-Craven, and then a 5km run around Aireville Park.
Many were taking part in their first ever triathlon and enjoyed the event despite the cold and wind, with even a few flakes of snow falling early in the morning.
The event was organised by Craven District Council for the third consecutive year. Paul Shevlin, chief executive of Craven District Council, said: "We had a fantastic day with many people taking part in a triathlon for the first time. All the competitors should be very proud of their achievements, particularly given the challenging weather conditions. It was great to see so many smiling faces and some competitive racing too. Skipton Triathlon attracts a huge range of athletes every year, from first-timers to elite racers and it's brilliant to see everyone giving their best efforts.
"A huge thanks to all our sponsors and supporters and all the volunteers for helping us put on the triathlon and making it a great experience for everybody involved. Particular thanks to the volunteers from Craven District Council, Craven Energy Triathlon Club, Skipton AC, Friends of Aireville Park and Skipton Cycling Club who showed what we can do when we all pull together as a community."
The overall winner of the event was Carl Shaw, of the Race Hub Triathlon Club, who finished in one hour and four seconds.
The first female athlete home was Brit May Tate, of Leeds and Bradford Triathlon Club, who completed the course in 1hr, 8mins and 58secs. Full results are available at www.stuweb.co.uk/race/2gs
The event was sponsored by RunRight, Omnis Signs, Craven Barnfield Regeneration Ltd, and Incommunities, and supported by Bizzie Lizzie's, Harrogate Spa, Keelham Farm Shop, Yorkshire Dales Ice Cream, Juste Nous, Triangle, Thistle Rose Campervan Conversions, Big Bobble Hats, Riders Cycle Centre, Grandma Wild's, Sportmax, Arla Protein and Birchall Foodservice.