Le Petit Depart 2019 – Free Bike Prize Draw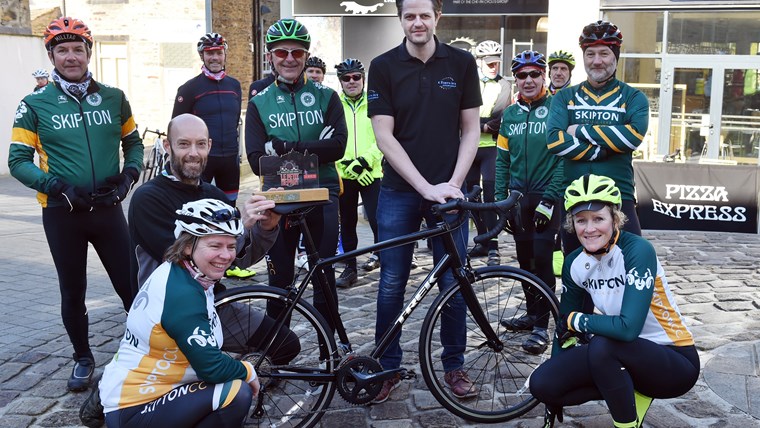 Entries are flooding in for Skipton's super cycle sportive, Le Petit Depart, with all entrants being given the chance to win a fabulous brand new Trek Domaine AL road bike courtesy of Chevin Cycles in Skipton. 
Sanjai Bhatia, Director of Chevin Cycles, said: "We are delighted to be supporting Skipton Cycling Club with Le Petit Depart for a second year; the route takes in some of the best riding routes in Yorkshire and it's easy to see why it's become a firm favourite of the Summer Sportive calendar."
Now in its sixth year, the cycling sportive will take place on Sunday June 2 and normally attracts around 700 entrants. This year two new routes have been added to the original 38 mile and 80 mile options. Riders can now challenge themselves with 100 mile and 50 mile routes, so they can really test themselves on the excellent local roads. 
Also up for grabs are a set of Hope road cycle wheels. Both prizes will be drawn on the day for entrants to take home with them. The total value of the prizes is over £750 so enter now to be in with a chance to win.
Caren Stephenson, chair of Skipton Cycling Club, said: "There are so many good reasons for entering this event this year. Not just the super friendly Skipton Cycle Club members helping you have a great day out on the bike but also the new route options, fabulous free giveaways, excellent feed-stops and stunning scenery, which takes in various bits of both the Tour de Yorkshire and also the UCI World Championships routes. 
"This year we're pleased with the number of entries from women, with over 20% of entries so far.  The club is passionate about supporting women into cycling and we hope more women will enter and join us for the day."
The event also attracts families and friends to enter as teams and take part in the Team Challenge and the potential to win the Team Challenge trophy. Team members can choose which route to ride and don't have to ride the same route as each other. The trophy is awarded to the team with the best average speed and each year around 15 teams take part.
Bruce Dinsmore, Craven District Council's Sports Development Officer, said: "We started the team challenge three years ago as a way for friends, work colleagues, club members or families to take part together and do which ever route they wished. 
"The average speed allows us to easily calculate this and teams get a reduced entry fee via the team booking form. Some teams all ride one route and ride together while others mix it up. It's a great way of having a shared challenge experience with family or friends and be in with a chance to win a beautiful trophy."
This year Craven District Council and Sue Ryder Manorlands Hospice have formed a partnership for Le Petit Depart; Sue Ryder Manorlands will be able to use the events to raise funds, and participants will be able to raise money for the charity with sponsorship forms, online fundraising and donations on entry.